Crypto
Crypto App Blockfolio Signs NFL Draft Pick Trevor Lawrence As Ambassador – InsideBitcoins.com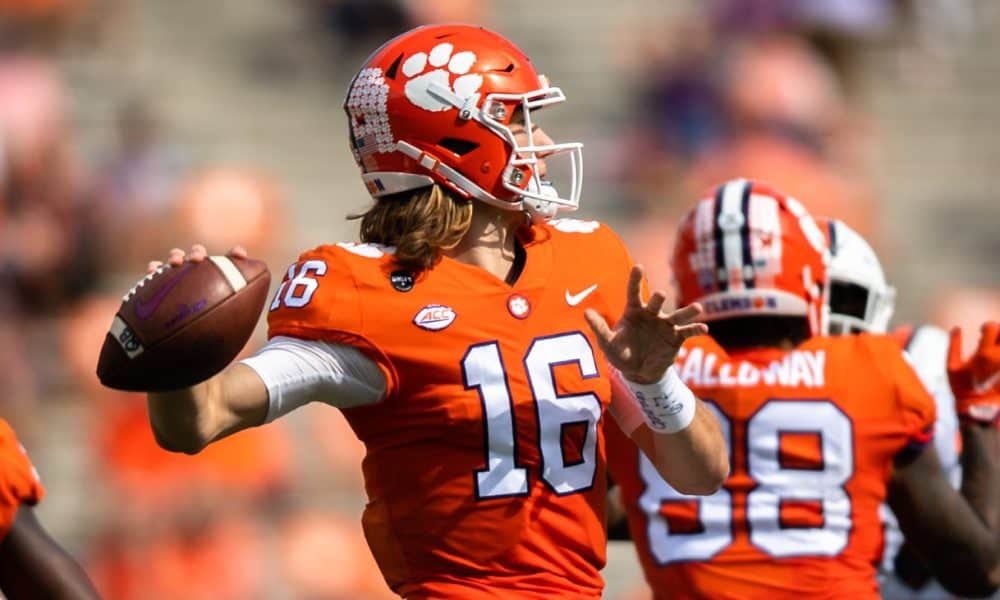 Cryptocurrency seems to be gaining more and more use cases by the day, and this time, it has found a new home in American football.
NFL number one draft pick Trevor Lawrence has just closed a mouth-watering deal with crypto mobile investment app Blockfolio.
Lawrence Signs Multi-Year Deal With Blockfolio
After being named this year's National Football League (NFL) draft pick for the year, Trevor Lawrence has another surprise up his sleeve.
This time, he is making a bold move into the world of investing with crypto investment app Blockfolio, a subsidiary of crypto exchange FTX.
The deal announced on Twitter by the crypto platform has been termed first-of-its-kind and will see the quarterback receive 100% of his signing bonus entirely in crypto.
We're excited to announce our partnership with football star, @Trevorlawrencee! The world of sports and crypto will never be the same. pic.twitter.com/8KC3ZHHagu

— Blockfolio (@blockfolio) April 26, 2021
According to those familiar with the details, Lawrence will have a combination of Bitcoin, Ethereum, and Solana added to his Blockfolio account.
However, both parties did not disclose the exact amount the deal is worth.
In speaking on the reasons surrounding their decision to work with 21-year-old Clemson prodigy, Blockfolio's COO Sina Nader said that Lawrence represents the future of football much like crypto does for finance.
To Nader, Lawrence's potential to impact the world of football with his talent is a reflection of how crypto has changed the way the world thinks about money.
Since joining Clemson in 2016 from Cartersville High School, Lawrence has impressed the footballing community.
His outstanding performances have seen him sign endorsement deals with major sports brand Adidas and beverage company Gatorade and he has even dabbled into the financial space with a few partnerships in stocks and banking.
The exponential growth of cryptocurrencies in the last year brought his focus into the space, and he believes crypto is re-structuring the financial landscape.
Aside from the commercial angle to the narrative, Lawrence notes that Blockfolio's social awareness is also one of the key reasons he decided to work with them.
Lawrence is a well-known philanthropist and has been active in helping to raise funds to help struggling families in the present pandemic.
Blockfolio's CEO Sam Bankman-Fried, is also a prominent figure in the charity circles and feels that Lawrence's commitment to humanity is a good sign for the brand.
Blockfolio is hoping to leverage Lawrence's social standing to help educate the younger generation on cryptocurrencies. He will also use the Blockfolio app to show how anyone can trade cryptocurrencies without paying any fees.
According to Nader, this partnership is part of a strategic initiative to help in the mass adoption of cryptocurrencies in the US.
Crypto Going Mainstream
Crypto exchanges have been making waves in 2021. A few weeks ago, the largest crypto exchange in the US, Coinbase, became publicly tradable after it went public on Nasdaq.
This milestone has been hailed by many crypto enthusiasts who see this as a sign that cryptocurrencies may indeed become globally adopted.
Blockfolio's parent company FTX has also been making some moves of its own. In a $135 million deal, the global Bitcoin exchange secured the naming rights of the Miami Heat till 2040.
The home court of the professional basketball team has since been renamed the FTX Arena.
I fully believe Bitcoin is the future of finance and I wanted to prove that I have real skin in the game — not just trying to make a quick buck. I will be converting my entire 2021 NFL salary to #Bitcoin.

— Sean Culkin (@culkin22) April 26, 2021
Another football icon who has also publicly made a move into crypto is Kansas City Chiefs tight end, Sean Culkin. Yesterday, Culkin had stated his intention to convert his 2021 annual salary into Bitcoin. According to him, his entire $920,000 paycheck would be in crypto by year's end as evidence that he believes in the impact crypto can bring to the financial space.