Crypto
Bitcoin Price Prediction: BTC/USD Hovers at the Level of $40,000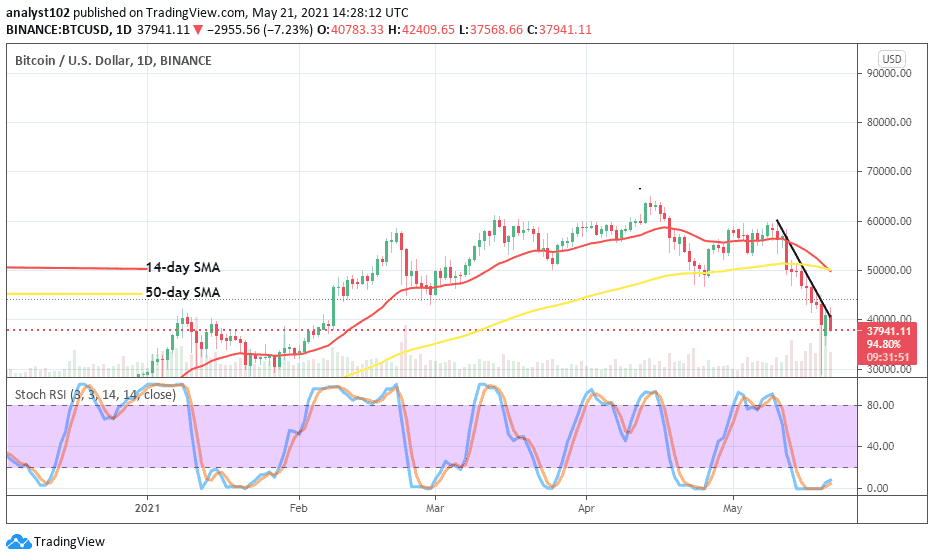 Bitcoin Price Prediction – May 22
The BTC/USD market has got to trade around a lower point of $40,000 after it managed to spring up from a lower support level of $30,000 recently. The crypto's price now witnesses a decrease of -6.83% to trade around the level of $38,104.
BTC/USD Market
Key Levels:
Resistance levels: $45,000, $50,000, $55,000,
Support levels: $30,000, $25,000, $20,000
BTC/USD – Daily Chart
It is shown on the BTC/USD chart that the market activities between the two trading instruments have downsized sharply to a surprising lower trading zone over a couple of days' sessions. Yesterday's operation witnessed a slight rebounding movement against the current resurfacing pressures in the trade as of writing. The bearish trend-line has a bit long-drawn along the downward path that the market is keeping below the two SMAs. The 50-day SMA indicator has now been touched from the top by the 14-day SMA trend-line. It is on the verge of intercepting it to the south. The Stochastic Oscillators are dipped in the oversold region trying to attempt crossing back upward. That suggests that the base trading tool is struggling against the forces being imposed on it by the US Dollar.


Will there be more downsizing in the BTC/USD?
There may potentially still be a record of more downsides in the BTC/USD market operation especially if the crypto's price hovers for a long time than necessary at the current level of $40,000. For the time being, bulls may now have to build up catalysts between the lower walls of $30,000 and $40,000 to be able to make a stronger stand for beefing while an upswing genuinely takes off in the crypto market space.
It is emphatically emphasized that only a consolidation of downward pressure is what most required around the level of $40,000 to see more free fall-off in a near session. A successful interception of the bigger SMA indicator by the smaller SMA from the top will portend a continued southward move in the BTC/USD trade activities on a gradual note.


BTC/USD 4-hour Chart
The bearish trend still dominates the BTC/USD medium-term run as price continually moves down along with the paths of both the bearish and the 14-day SMA trend-lines. The 50-day SMA indicator is located over them at around the level of $48,000. The Stochastic Oscillators have conjoined the hairs to point briefly toward the south from the overbought region to suggest that bears' forces are yet to be over. Meanwhile, the market point of around $35,000 may be the highest price could touch for support if a less-active move is exerted by bears.
Remember, all trading carries risk. Past performance is no guarantee of future results.