Crypto
Arweave Price Soars 7% – Time To Buy AR? – InsideBitcoins.com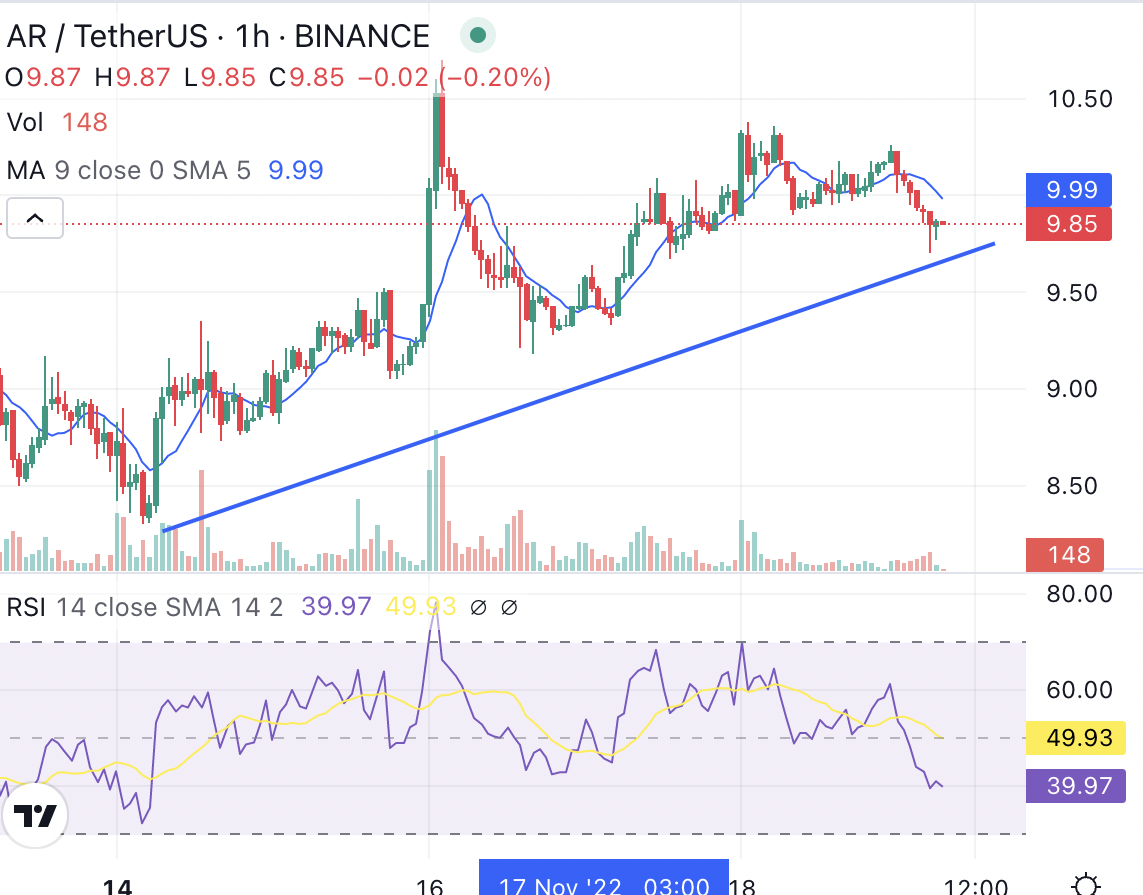 As the FTX-triggered crash has pushed many cryptocurrencies near their all-time lows, there are some that have shown signs of a resurgence this week. One of them is Arweave. In the past 24 hours, the Arweave price has soared by 7%. While this uptick is minuscule, in today's ecosystem, any rise is seen as a positive sign. So, does this mean that it is time to buy AR?
Arweave Price History Since The Beginning of 2022
Arweave's price history in 2022 is nothing to write home about, but it is not so different from other cryptocurrencies. This asset entered 2022 at $59 and then rose to $66, after which it started on a downward path. The Arweave price dropped 50% of its 2022 entry price to $30 in January alone before a bounce. However, the bounce wasn't enough to push the value of this asset closer to its January value.
There was some volatile price action in April, but it was largely unnoticed by the general crypto crowd since AR is a low-cap coin with only a $328 million market capitalization. However, because of its unique use case, which is to provide indefinite data storage, AR's value bounced between $20 to $40 until the beginning of May. 
A major retrace happened during May, pushing the Airwaves price closer to its all-time lows. Since then, like the entire crypto market, Arweave has had a difficult time finding a good ground to stand on. 
At the time of writing, the Arweave price hovers around $10. 
Arweave Price Prediction – What do the Current Trading Charts say
Arweave's intra-day trading chart shows that some uptrend is forming. After bottoming at $8 on November 14th, the price candles showed a bullish engulfing pattern that continued the price increase until November 16th, 2022. There was a quick retract, with the hourly chart showing a bearish sentiment. Some back and forth later, the price chart shows that the token is trading at $9.8.
The crowd reaction to this price action is largely bullish, with commenters on CoinMarketCap stating that the AR token might reach $25 by Sunday. The reason behind this positive sentiment is the recent announcement by Meta (Facebook) that Arweave will be integrated into Instagram and Meta ecosystem. 
📢Happy to announce that @Meta is now utilizing Arweave for the storage of their creator's digital collectibles on @instagram!

Bringing data permanence to the giants of web2!https://t.co/7HbquIsMJg pic.twitter.com/TFef5WhrN3

— Arweave Team (@ArweaveTeam) November 2, 2022
While this news shows that there is a chance that the token will move in a positive direction, the market fundamentals say otherwise. It is important to know that Meta's recent lay-offs, combined with the increased capital expenditures, have pushed many market watchers to say that the project is doomed to fail. 
Should you buy Arweave?
Arweave is a unique project that aims to introduce indefinite storage space. However, its YTD performance doesn't inspire confidence in those who have grown more apprehensive about the crypto market after the FTX debacle. Also, since the chart we are showing only highlights the intra-day performance, it is difficult to predict its long-term potential for now. 
More about FTX
The news coming from all fronts about Sam Bankman-Fried's debacle has divided the crypto community and publications. Major news outlets, from New York Times to Guardian, are painting SBF as just another "young investor who stumbled", completely ignoring the loss of funds that millions of investors suffered. 
Amidst this discord of opinions, another disturbing news has been revealed. The new CEO of FTX has alleged that Alameda research has secret exemptions for FTX. While many details are yet to come to light, initial reports suggest that Alameda was secretly exempted from FTX's auto-liquidation protocols.
Alameda was secretly exempted from FTX's auto-liquidation protocols.

LITERALLY GOD MODE. pic.twitter.com/dxnZRMjxXj

— wassielawyer (@wassielawyer) November 17, 2022
The Investor community is now hitting back at not just the heads of Alameda and FTX but also those who endorsed them, including Tom Brady and Steph Curry. 
On the price front, the value of FTX remains as abysmal as ever. FTT, the native crypto of FTX, is on the verge of collapsing and is currently trading at $0.00370. 
Look for Better Crypto assets to Invest in
Nobody in the ordinary trading space could have seen what was coming. However, there is a lesson in this. If investors just had enough information, they could've made a better investment decision – information disparity is what Dash 2 Trade is here to remove. 
Dash 2 Trade is a crypto trading and analytics platform that presents some of the best crypto analysis and investment tools people need to make informed investment decisions. These features range from on-chain analytics to a manual presale appraisal system. 
Another factor that makes Dash 2 Trade such a great crypto investment is that it is currently undergoing presale. So far, this token has raised over $6.5 million. Now, in its third presale stage, the D2T token can be bought at a discount price of $0.0513. Invest it in now before the token enters the next stage and the price increases to $0.0533. 
Other crypto investments that are available for those wanting to be early movers are Robotera, a metaverse crypto that has passed its $100k milestone. Calvaria is a P2E cryptocurrency getting closer to $2 million, and IMPT, the greenest token of this year, is close to raising $13 million. 
Check out our guides to buy these assets today. 
Read More
Dash 2 Trade – High Potential Presale
Active Presale Live Now – dash2trade.com
Native Token of Crypto Signals Ecosystem
KYC Verified & Audited