Crypto
5 Cryptocurrencies To Buy At Fair Price in This Accumulation Phase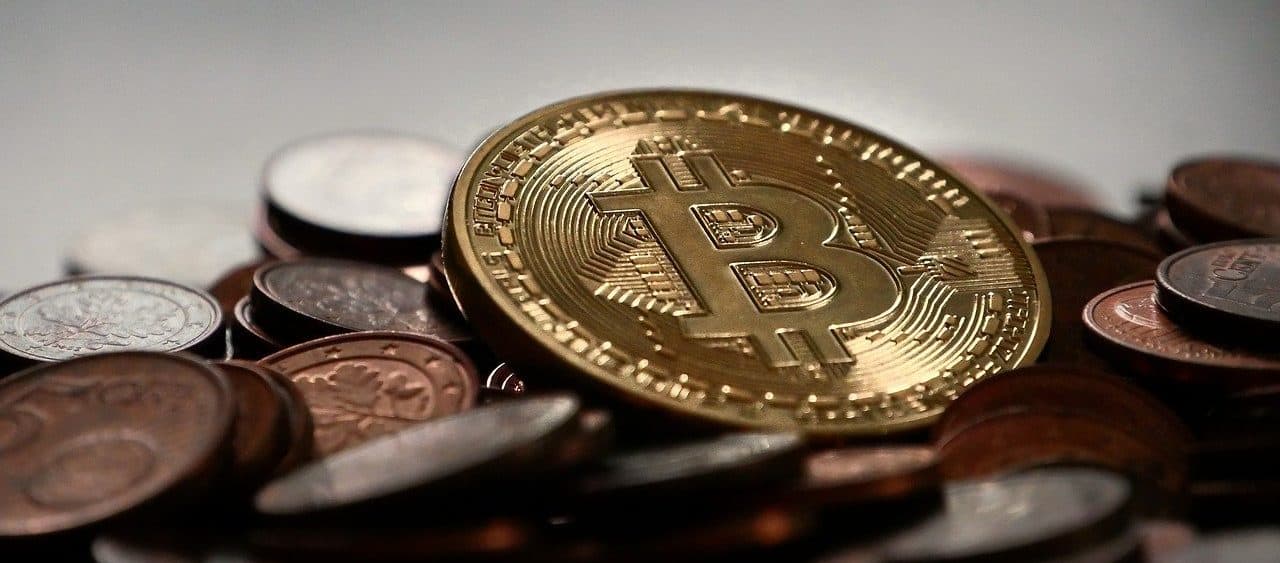 Looking for 5 cryptocurrencies to buy as the market seeks to find a bottom, then read on. The market is slumping today as news flow darkens the mood, with Trump labelling bitcoin a 'scam' and China stepping up its crypto crackdown, so what better time to consider some coins to start buying up at cheap prices.
This round-up of 5 best cryptocurrencies to buy in this accumulation phase might help you mint massive returns on your investment. Notably, investing in cryptocurrencies at the right time can provide you huge profits.
It all started with the advent of Bitcoin in 2009. Afterwards, other altcoins such as Ethereum, Litecoin, Ripple, etc., followed.
The industry has witnessed many price surges and plunges in the past and we are currently in a downswing, but likely near the bottom as institutional buyers continue to enter the bitcoin market when it nears the $30k price level.
But it's at time like the present that forward-thinking investors have the opportunity to accumulate the best digital assets. The prices are fairly reasonable, also given the industry's volatility and the fact that no one can be certain when the bullish trend will commence, this is a good time to gently dollar-cost average into the market.
So, if you're looking to bolster your ROI in the near future, check out the 5 best cryptocurrencies to accumulate in this consolidation period.
5 Cryptocurrencies to Buy in Accumulation Phase
1. Buy Huobi Token (HT)
Huobi is one of the 5 best cryptocurrencies to buy in this accumulation stage owing to its abrupt and massive growth. The incubation stage for the Huobi started in 2013 when Lean Li, an Oracle Engineer, decided to kickstart the Huobi exchange.
The exchange recorded $4 billion in turnover after its first three months of operation. The turnover became 4x the previous year's amount showing that its mission was not unfounded. Surprisingly, in 2016 Huobi recorded a total of $247 billion annual turnover.
Huobi has been one of the top Chinese exchanges in the market. The exchange released its token HT in 2017. After the launch, the exchange recorded more than $1 trillion in turnover, thereby joining the top 3 exchanges in the world.
Presently, HT Price is at $14.14, and the trading volume is at $327,423,729. Moreover, the market cap for the token is at $2,475,345,055, and HT tokens in circulation at the moment is 175,074,232. The token has a fixed supply cap of 5000,000,000 coins.
It is yet to max out, meaning coins are still being minted. But it also means that once it reaches the supply cap, the coin will become scarcer and more valuable.
Huobi lost 9.81% in 24 hours, thereby providing the room to accumulate the coins faster. Given the strength of the exchange token, it will surely recover previous losses.
Even though it is going down gradually, experts predict that Huobi HT will rise to $20.39 in 2021 and get to $64.41 in 2028. If you Invest in HT right now, chances are that you will make huge profits as the exchange cements it s position as one of the top exchanges globally, providing a stable use case for its token as a way of paying trading fees on the platform.
2. Buy Binance Coin (BNB)
Binance is one of the largest cryptocurrency exchanges in the world. It supports many decentralized networks based on blockchain tech. Changpeng Zhao founded the company in 2017, and it has been growing since then.
Binance now has many sub-projects such as Binance Academy, Binance Chain, and Research projects. Binance launched BNB in 2017 and garnered massive investors' interest. BNB recorded a huge price increase in 2021 and has also been growing steadily.
Presently, Binance Coin (BNB) is selling at $347.95, and its trading volume is $3,570,496,915. BNB has a market capitalization of $53,386,528,565, and the circulating number of tokens is 153,432,897 coins.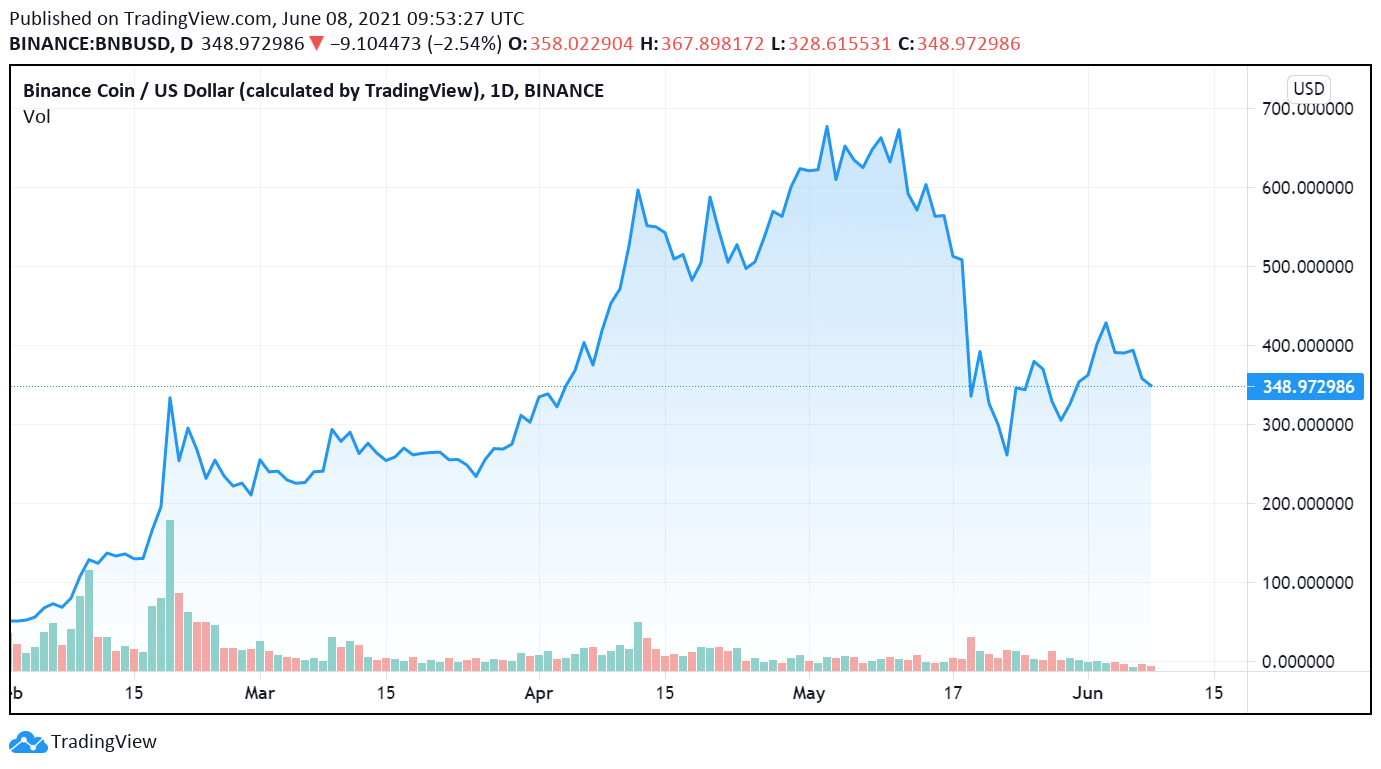 The max supply cap for Binance coins is 170,532,785 coins. BNB recorded a price plunge of 11.91% from where it traded on June 7, 2021. Even at that price though, experts expect a recovery. If you're searching for the top cryptocurrencies to buy, consider buying BNB.
Moreover, the predictions for BNB are positive. Popular Youtube channel Mango Research predicts that the coin will rise above $544.05 in 2021 and grow to $1,538.70 by 2028.
3. Buy Chainlink (LINK)
Sergey Nazarov founded Chainlink to facilitate blockchain interactions with external events, data feeds, payments methods, etc. These external datafeeds are known as Oracles in the blockchain world. The entrance of Chainlink in 2017 improved the way smart contracts use data for their operations and made the key oracle functionality more secure. Chainlink enables users to complete smart contracts using off-chain data.
By providing this solution, Chainlink has become very popular among top players such as Huobi, Brave New Coin, and Alpha Vantage.
Chainlink has also made it easy for data providers to implement its technology offering. With all these solutions, Chainlink (LINK) has been making waves in the industry. It also recorded some impressive price spikes in 2021
Chainlink coin LINK is one of the 5 best cryptocurrencies to buy for future returns on investment. Today, June 8, 2021, LINK is priced at $23.88, and the market cap is at $10,469,712,590. The total trading volume for LINK today is $1,734,176,402, and the number of its circulating coins is 431,009,553.92.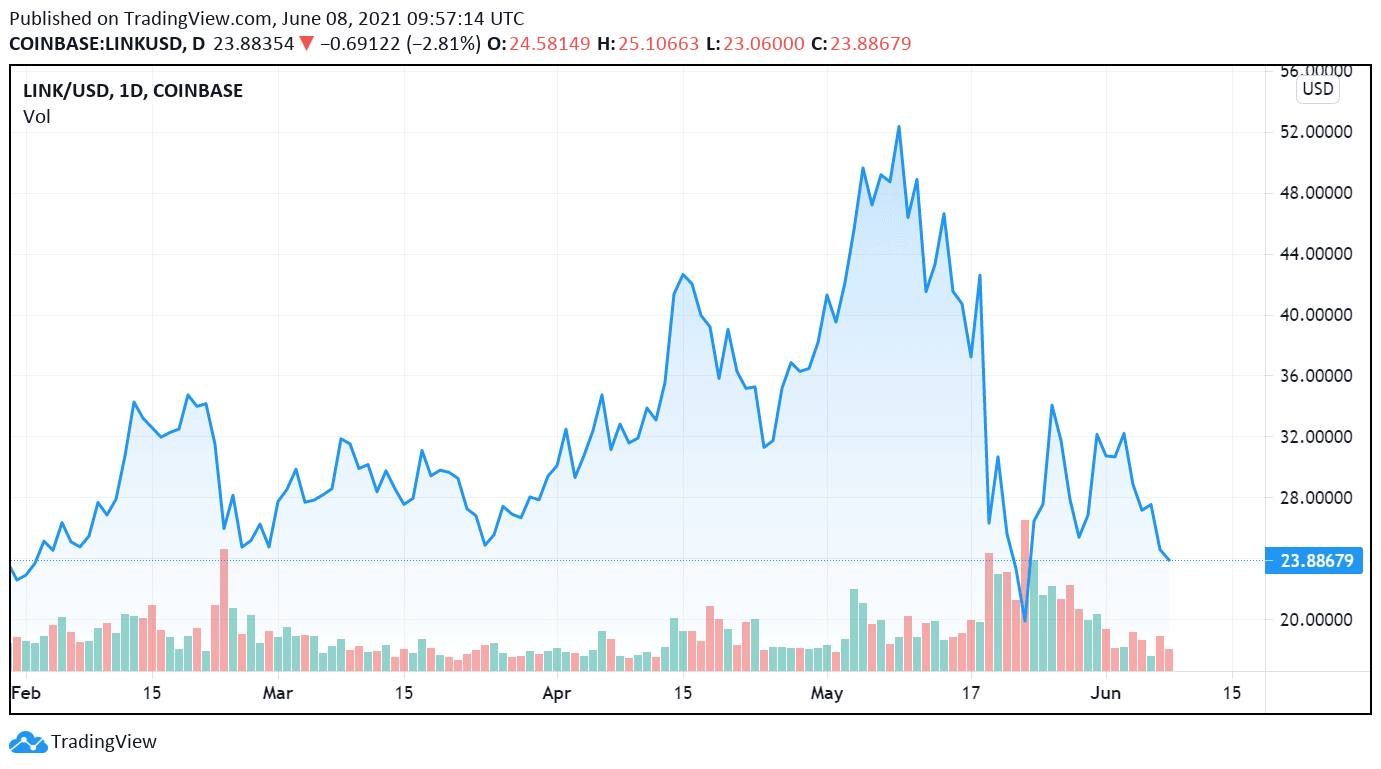 LINK also experienced some price plunges amounting to 12.82% of its previous price on June 7, 2021. However, experts predict a better future for the coins. According to a number of crypto analysts' price predictions, LINK will end the year 2021 at $60 and hit a $100 mark by 2022.
4. Buy Stellar (XLM)
Stellar facilitates the seamless movement and storage of money. The network has been around since July 2014, and the aim is to boost financial inclusion. Stellar purposed to reach the unbanked all over the world. But later, the network expanded its goals to connect financial firms via blockchain technology.
One good thing about the Jed McCaleb network is that it facilitates cross-border payments and other solutions at the lowest charges.
By this, Stellar users save a lot from transaction costs. The Steller coin XLM facilitates every transaction on the network. Presently, the XLM price is at $0.342429 as of June 8, 2021. The market cap is at $7,923,043,264.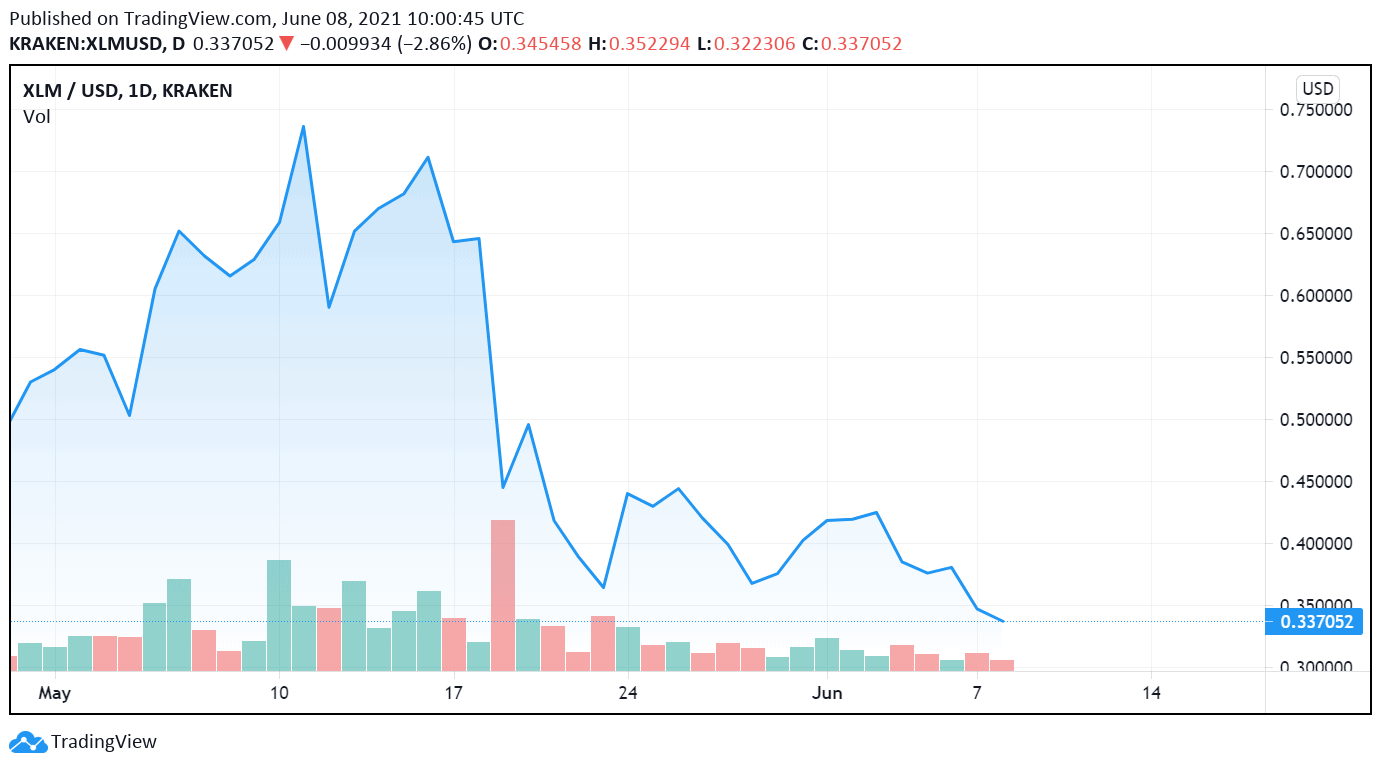 Stellar XLM has a max supply level of 50,001,806,812 coins. The number of XLM in circulation is 23,137,790,411 coins representing almost half of the max supply cap. Once the coin reaches the cap, it becomes rare and expensive. So, if you're searching for the 5 best cryptocurrencies to buy, consider Stellar XLM.
Even though the market is bearish and Stellar lost 10.15% of its price, experts still predict a great future for the coin. According to Stellar XLM predictions, the coin might hit the $1 target in 2023 and surpass $2 by 2028.
5. Buy Cardano (ADA)
Cardano is another crypto to buy for amazing ROI in the nearest future. Cardano joined the crypto industry in 2017.
Since then, ADA has been making waves amongst crypto investors. The market cap for Cardano is at $55,154,191,950, while the ADA price is at $1.52.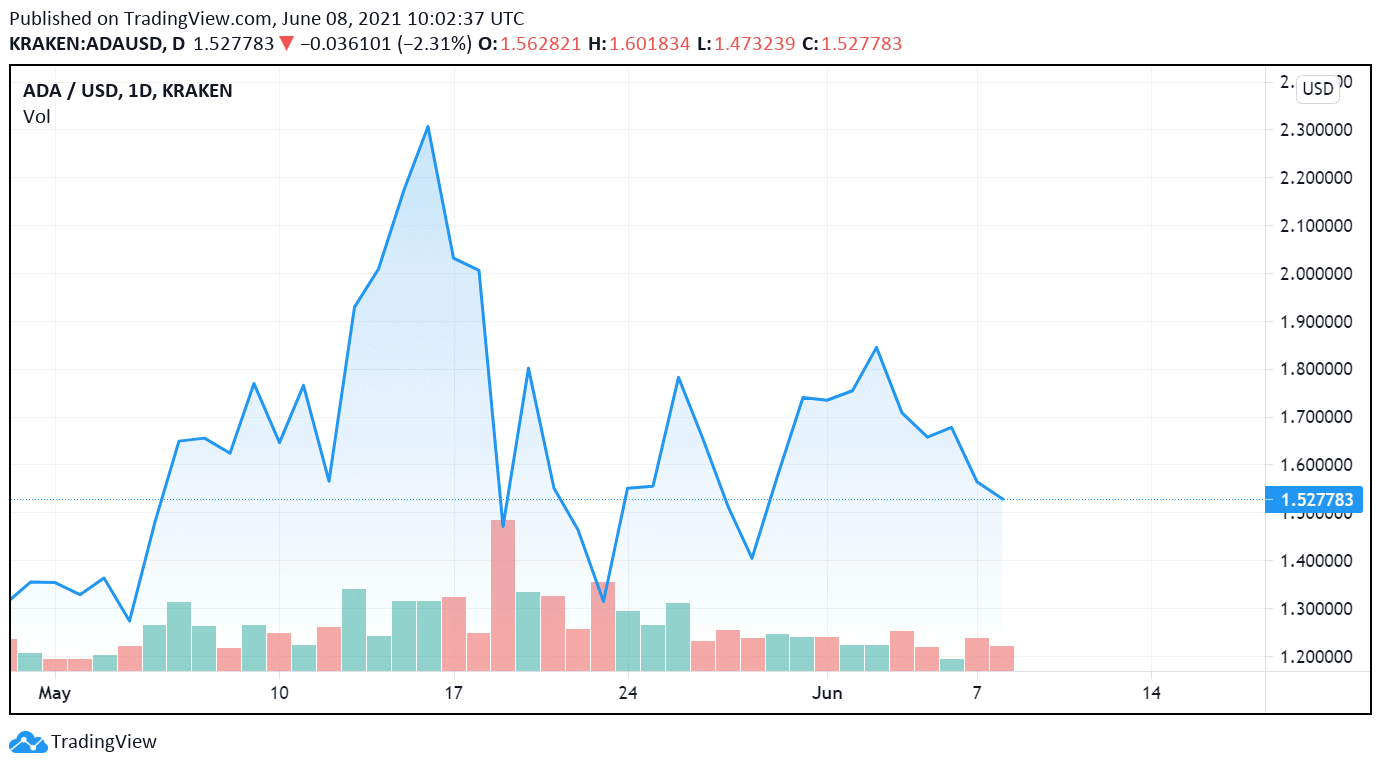 Presently, Cardano has made its way to the top 10 cryptos in the industry and is still growing in adoption, investment, and market cap. As many investors lean towards the altcoin, this is an opportunity to buy as many ADA coins as possible.
One of the attributes for the growth of Cardano (ADA) is the blockchain exchange, where traders can trade and perform diverse crypto transactions. The exchange uses the Proof-of-Stake mechanism and supports peer-to-peer crypto transactions.
Also, Coinbase listed ADA on its exchange in March 2021, thereby exposing the token to its large number of users. Coinbase users now buy, trade, sell and exchange ADA as part of their portfolio. All these factors have led to a growing increase in Cardano value.
According to experts, Cardano (ADA) could hit $8 in 2021 and $20 by 2024 to 2025. So, it's wise to buy  ADA in order to receive huge returns.
Looking to buy or trade Cardano (ADA) now? Invest at eToro!
75% of retail investor accounts lose money when trading CFDs with this provider
Missed the first crypto wave… don't miss out again
If you missed the first crypto wave that made investors rich, this is another chance to accumulate the 5 best cryptocurrencies. While the crypto market is fraught with uncertainty, volatility, and risks, we can't deny the fact that the industry can skyrocket at any time.
If you are looking for other coins to buy, say those with the best blockchains for running smart contracts, you might want to check out our best crypto coins for top blockchains article to help you find the best ones.