Crypto
5 Best Up and Coming NFT Collections to Buy Now – June 2022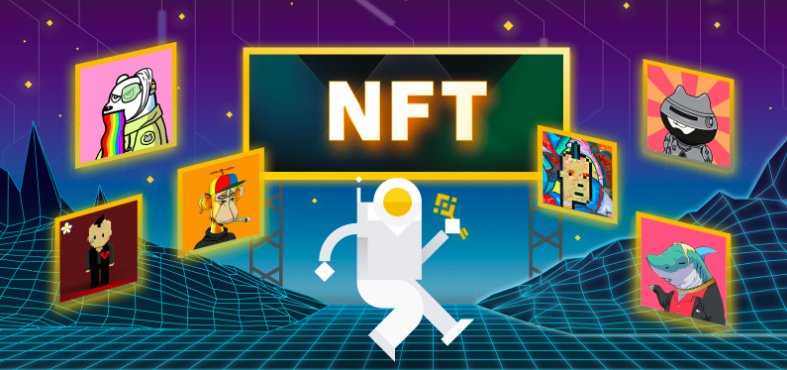 Non-fungible tokens (NFTs) are one of the best investments for crypto enthusiasts at this moment. With the prices of digital assets falling, many of the best up and coming NFT collections seem to be available at a discount.
In this article, we've outlined some of the collections that are likely to become even more valuable in the future.
1. Platinum Rollers Club
We kick off our list of the best up and coming NFT collections with Lucky Block's Platinum Rollers Club. This collection was launched by Lucky Block – one of the most popular blockchain gaming platforms in the market.
After gaining massive investor interest over the past year, more investors have looked to buy Lucky Block. The platform's developers have also made inroads and expanded its marketing strategy. The platform launched the Platinum Rollers Club collection as a way of capitalising on the NFT mania, offering different tokens to investors in exchange for benefits like event access and giveaways.
The collection contains 25 "Rare-Edition NFTs", which offer prizes to holders and minters. Lucky Block also offers jackpots that give holders an additional opportunity to win prizes.
In the past two weeks, Lucky Block has organised a $1 million NFT prize giveaway, with a total prize of $1 million to investors who own a Platinum Rollers Club NFT. The giveaway is expected to end this week. But we expect Lucky Block to organise more in the future.
Opportunities like these will definitely provide an incentive for investors to buy one of these NFTs.
Cryptoassets are a highly volatile unregulated investment product.
2. Pudgy Penguins
Next on our list of the best up and coming NFT collections is the Pudgy Penguins collection. This collection, launched in July 2021, has continued to grow in popularity.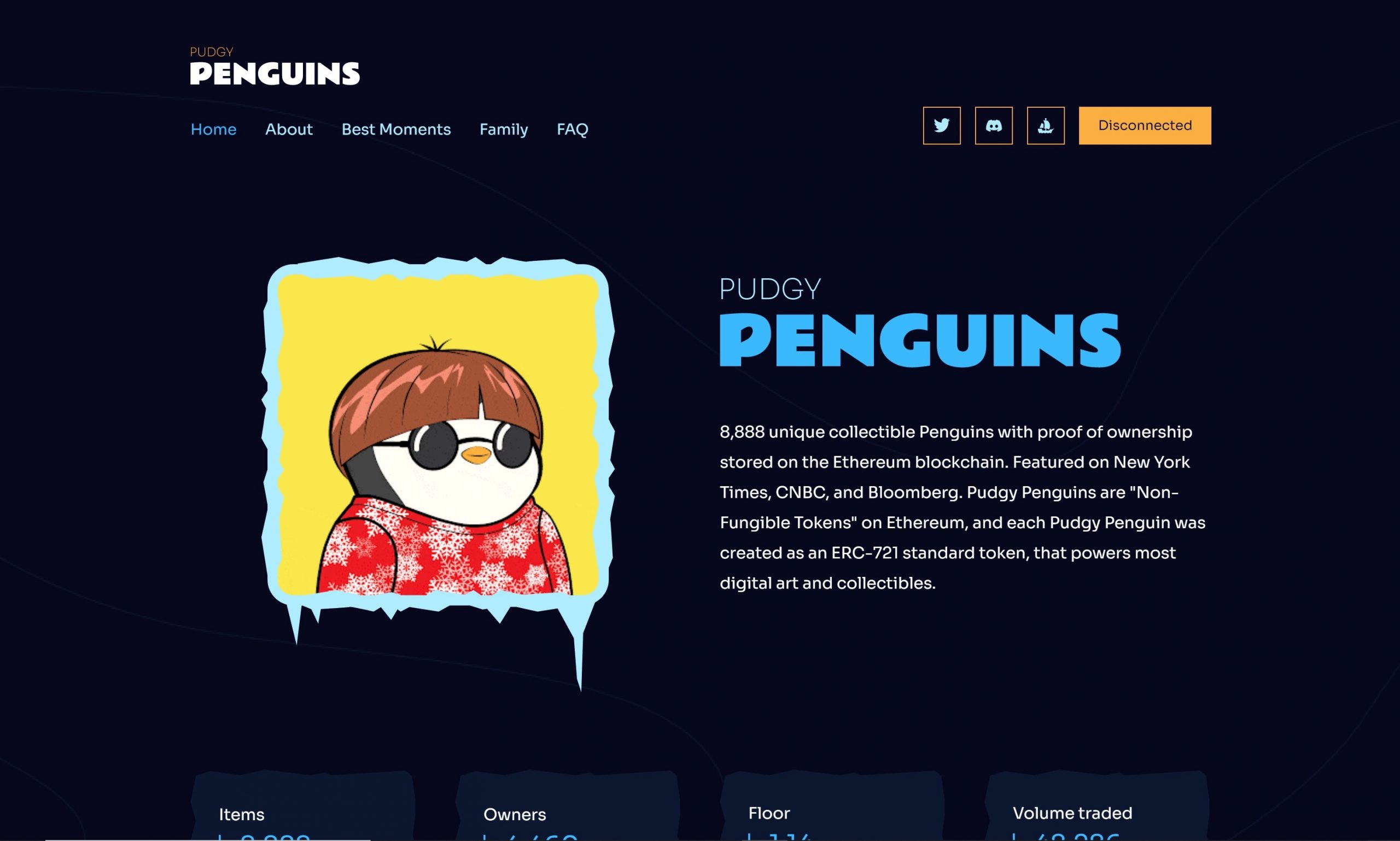 Pudgy Penguins includes 8,888 individual NFTs. Each of them depicts a fun cartoon penguin with different characteristics. With the collection's growing popularity, the floor price for each collection has hit over $4,000.
For investors who want the CryptoPunks or Bored Ape Yacht Club feeling, the Pudgy Penguins collection is a pretty solid option.

3. Tiger Toonz
Tiger Toonz NFT is hosted on the Ethereum blockchain. The collection is filled with 3,333 randomly-generated tokens.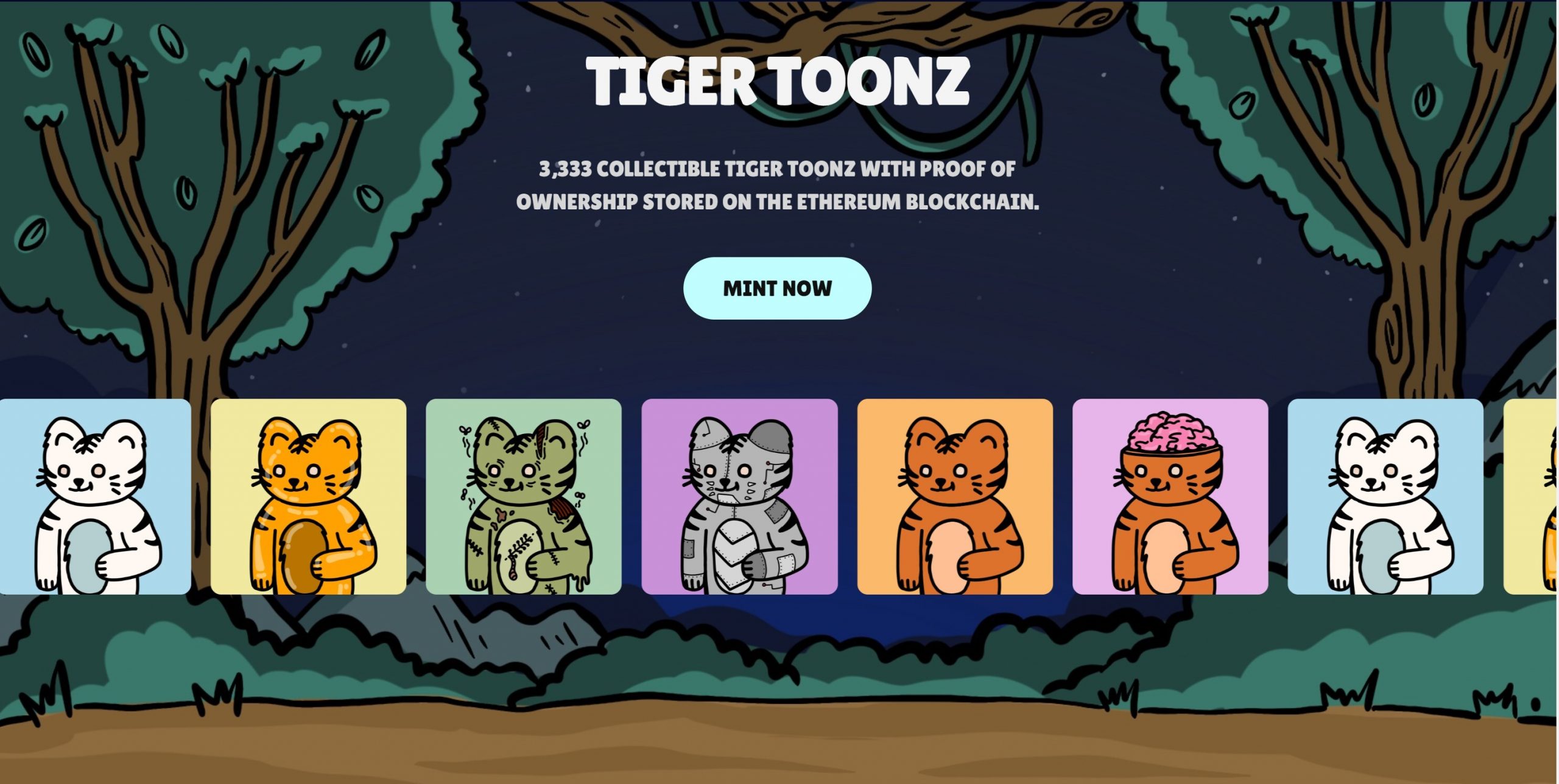 Like the Pudgy Penguins collection, each Tiger Toonz NFT offers unique features. Holders get different facial features, as well as variations in outfits, headgear, and other accessories. The Tiger Toonz developers have explained that they were looking to create a collection that would revolutionise blockchain gaming, with the NFTs acting as in-game avatars for an upcoming blockchain gaming platform.
With blockchain gaming expected to be one of the most in-demand services in the future of crypto, there's a lot of excitement about the Tiger Toonz collection. Its developers are working on different feature sets that would make the NFTs more useful, and they're even building a staking mechanism that would allow NFT holders to earn their in-game currency, $STEAK. Also, the developers claimed to be building an immersive metaverse where participants would be able to hold events.
4. Dropout Bears
Investors who are fans of rap music are probably aware of College Dropout – the debut album for Kanye West. Kanye fans should fancy Dropout Bears.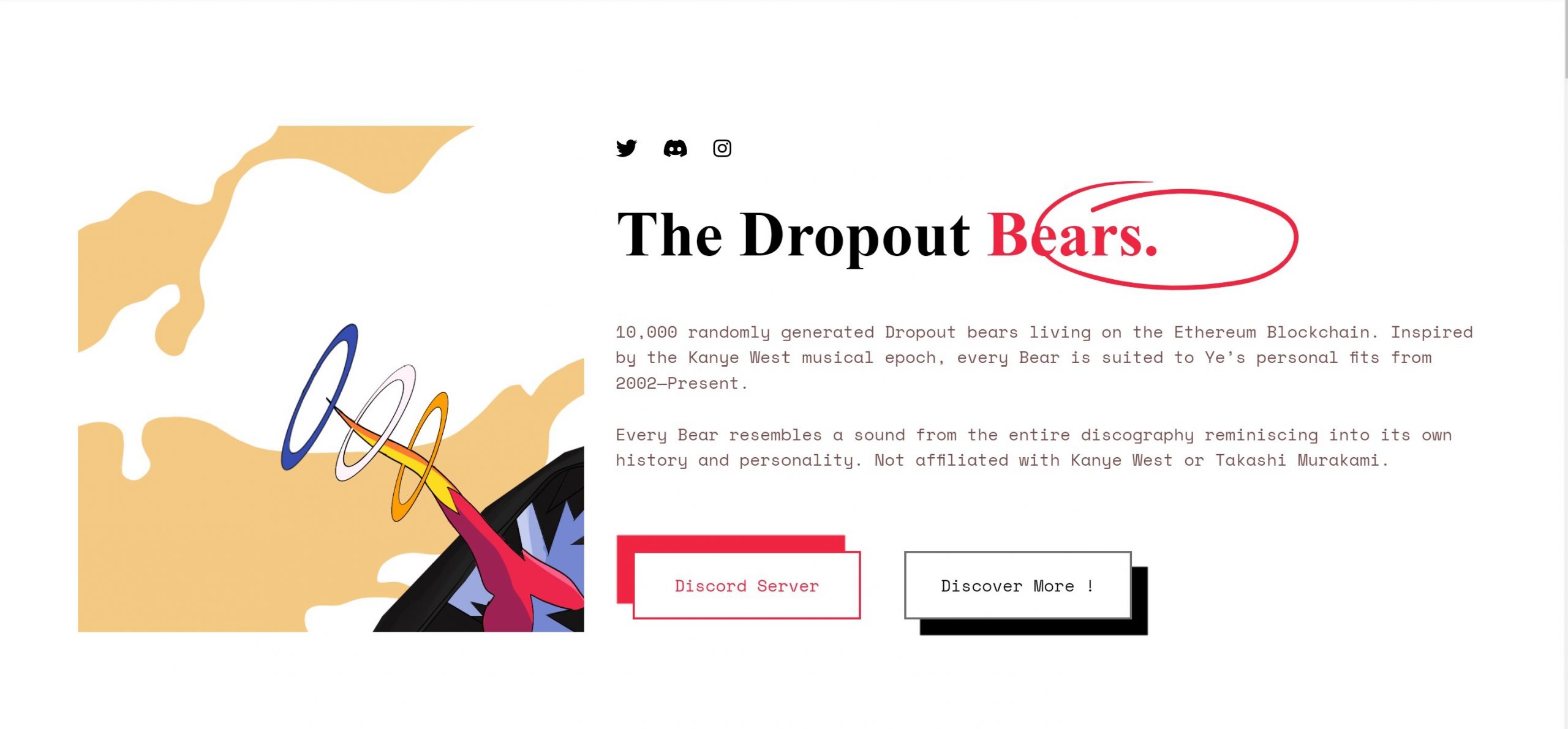 This collection is the first from Dropout University – a broader collection built on the Solana blockchain. The collection has 808 items, all providing different attributes. Dropout University is reportedly working on releasing five collections, and Dropout Bears is the first to be released.
The Dropout Bears collection was inspired by the album art from Kanye's debut album. These NFTs are similar to the album's bear character, which was prominent across the album's materials and videos.
The Dropout Bears collection also comes with several awesome perks. Holders of the NFT have access to the DropoutDAO, where they participate in governance. Also, the Dropout University roadmap reveals that the collection's developers are working on implementing token staking.
5. FLUF World
The final option on our list of the best up and coming NFT collections is FLUF World. This collection consists of hundreds of programmatically-generated NFTs and is minted on the Ethereum blockchain. All NFTs are bunny-themed and come in 3D images, representing a break from the norm of static NFT images.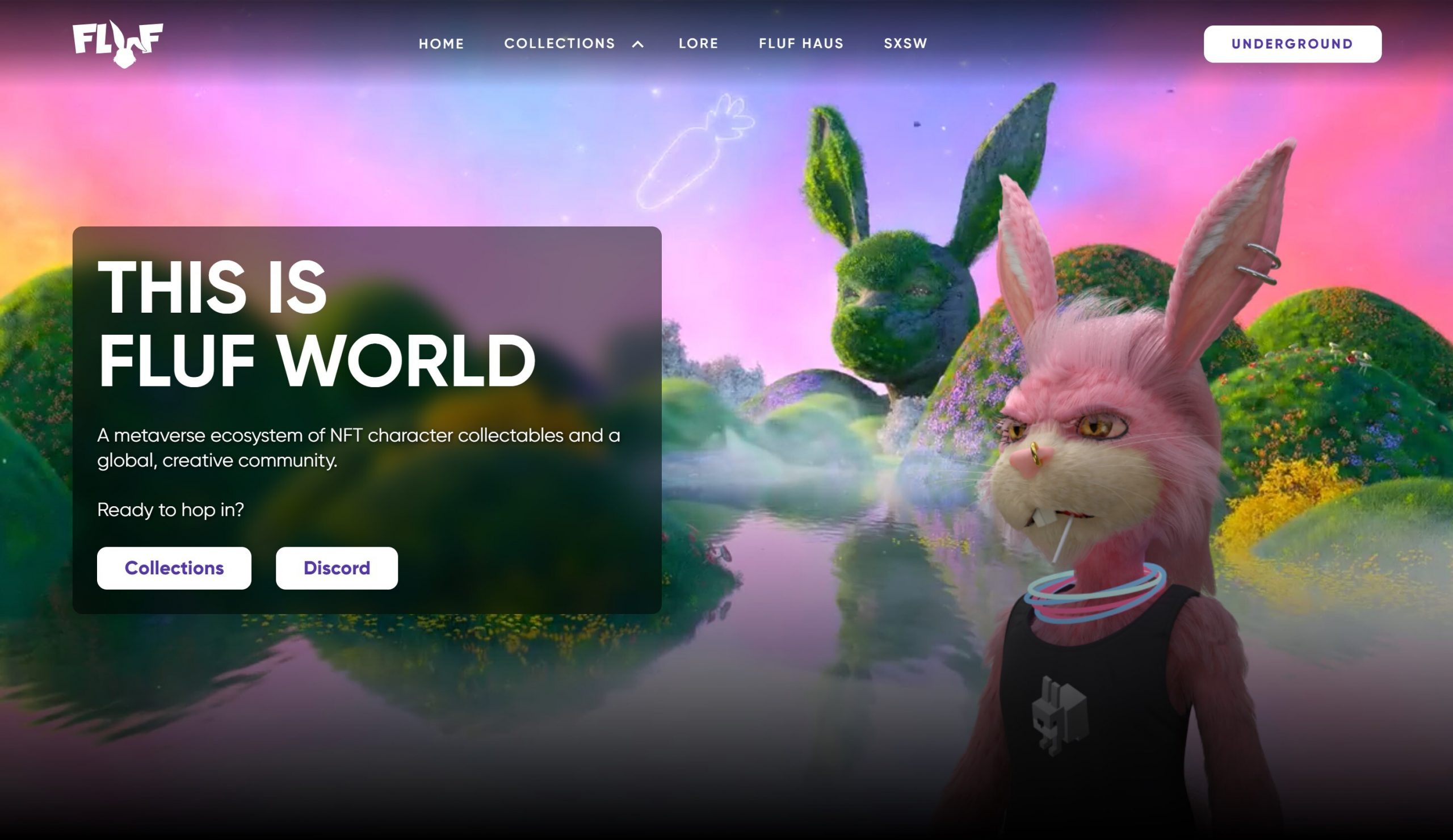 The FLUF World collection, launched in August 2021, comes with tokens across different categories. The tokens in the same category tend to have the same visual features, including clothes, accessories, dance movements, and soundtracks.
With impressive sales and a floor price of $11,000, the FLUF World collection is one investors should keep an eye on if they're looking to optimise value with their NFT collection over time.
Read More:
Lucky Block – Our Recommended NFT for 2022
New NFT Game Platform
Featured in Forbes, Nasdaq.com, Yahoo Finance
Worldwide Competitions with Play to Earn Rewards
10,000 NFTs Minted in 2022 – Now on NFTLaunchpad.com
3.75 wBNB Floor Price
Free Exclusive Entry to Daily NFT Prize Draws
Lifetime Access to the Main Lucky Block Prize Draw
$1 Million NFT Jackpot in May 2022
LBLOCK Token Up 1000%+ From Presale
Cryptoassets are a highly volatile unregulated investment product. No UK or EU investor protection.