Crypto
10 Best Crypto Assets Under $1 Which May Skyrocket In In The Future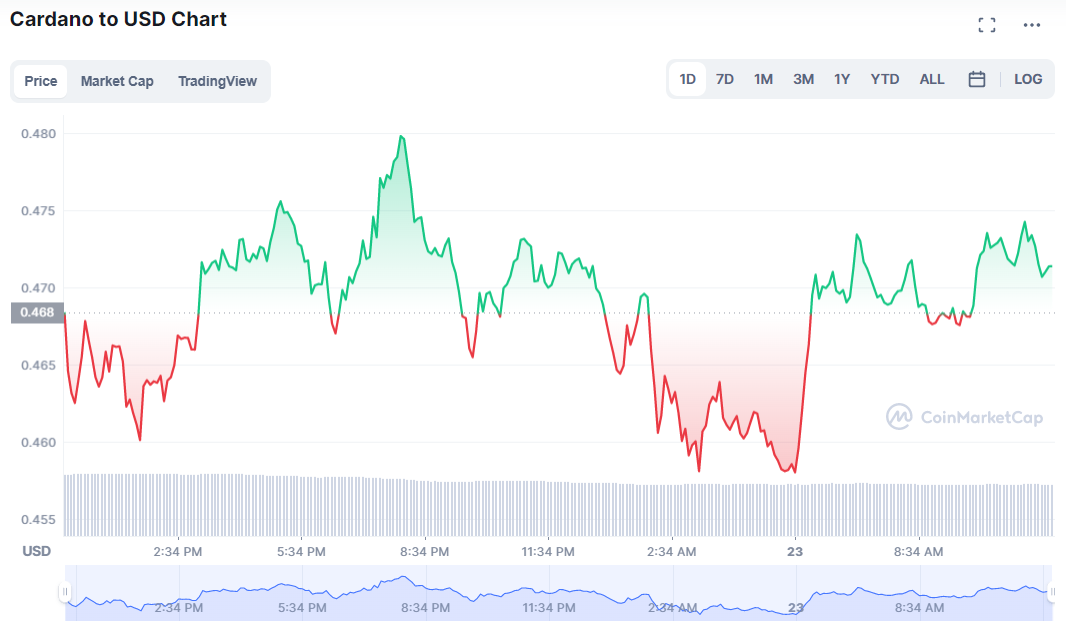 When it comes to cryptocurrencies, the first quarter of 2022 has been full of shocks.
With the value of Bitcoin and Ethereum falling precipitously and Terra entirely crashing, we have witnessed one of the largest market crashes investors have witnessed in the history of investing.
But if there's one thing that this erratic market has taught us over the past few years, it's that no matter how hard it falls down, the market usually bounces back with a vengeance.
In light of this, now would be the ideal moment to make investments and take advantage of current low costs in order to, perhaps, realize a significant profit in the months to come.
Keeping that in mind, we have rounded up the 10 best cryptocurrencies valued under $1 which have the potential to skyrocket in the future.
10 Best Crypto Assets Under $1
1. Tron
Tron is a ground-breaking blockchain that aims to transform the multibillion-dollar entertainment business. The Justin Sun-led network aims to cut out the giant digital middlemen like YouTube, Apple, and Facebook from the entertainment business.
It was first introduced on Ethereum before creating its own main net. It aims to provide content producers and developers' choice over how their work is paid for and distributed.
The ability for content producers and cryptocurrency developers to build and sell services and goods on this blockchain is its main draw.
In order to accept gifts from their supporters and product users, they might also design unique tokens. It is still developing its market share in the multi-trillion-dollar business.
TRX tokens are currently trading at a price that is 80% below their all-time high. In the future, they are predicted to reach $4 by 2030, which suggests that you may be looking at returns of 8000 %.
Your capital is at risk.
2. Ripple
When XRP was introduced in 2014, the cryptocurrency market recognized its enormous potential right away, and by 2018, it was trading above $3.50.
But as soon as the SEC issued a lawsuit against Ripple Labs in the US, the price of the XRP coin began to plummet, eventually losing parity with the dollar.
Investor trust in XRP decreased, critical advancements in the Ripple ecosystem stopped, and banks and other financial institutions held off on joining the Ripple network.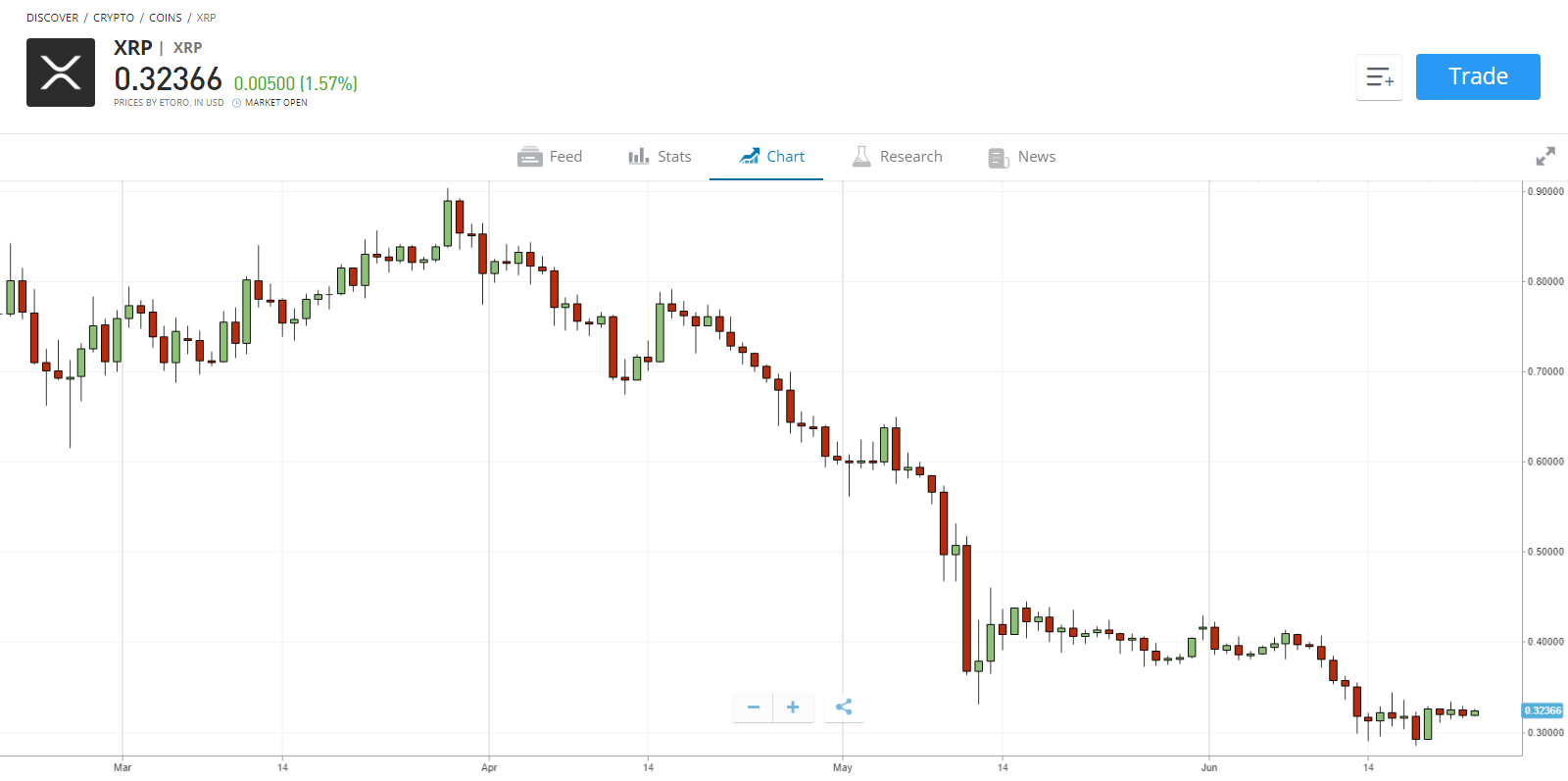 All of this is to imply that the ongoing SEC action is the only reason the Ripple token is trading below $1.
During previous crypto rallies, the cryptocurrency had demonstrated its tenacity and preparedness to surpass $1.
During the initial 2021 crypto market surge and the late 2021 mini-rally, it already crossed the $1 threshold. This suggests that XRP is likely only one rally away from surpassing $1 and the SEC-case verdict from causing an explosion.
Your capital is at risk.
3. Cardano
Cardano, the biggest smart contract platform and most valued coin which was introduced in 2017 is aiming to surpass Ethereum as the most popular smart contract platform in the long run.
It is different from other blockchain technologies in that it was the first to undergo peer review, making it the most trustworthy crypto network.
The Cardano blockchain is less dynamic since programs and protocols on the network must be peer-reviewed before being included into the ecosystem. For instance, it has yet to fully develop in the DeFi, dApps, and NFTs sectors and just integrated the smart contract capability in September 2021.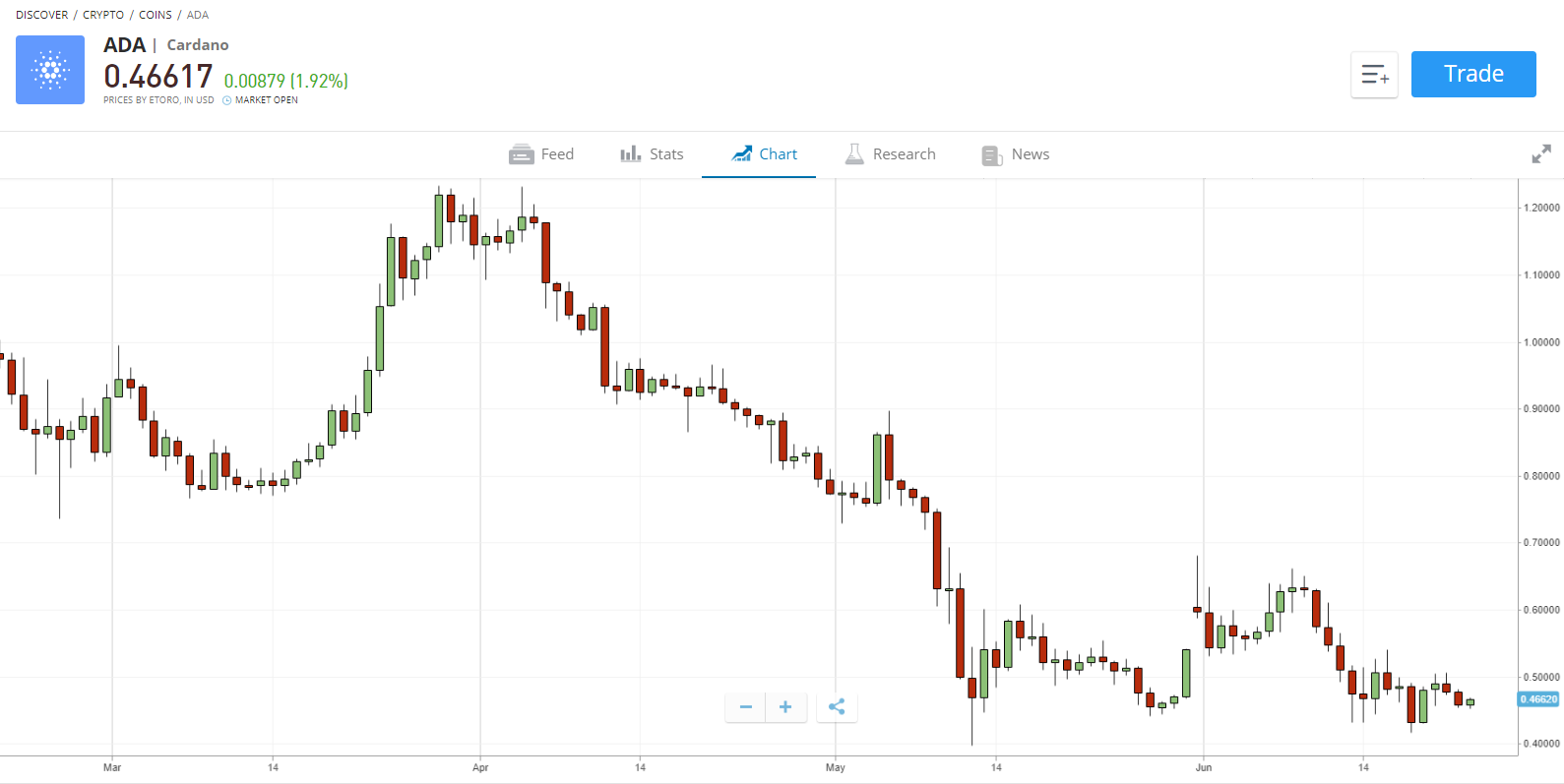 Investors have faith in Cardano because of its security, competent leadership under Charles Hoskinson, and a high degree of decentralization. These have really helped Cardano increase its market value above $17 billion.
Future plans for Cardano include the release of a number of key features and initiatives, including Web3 Apps, protocols, and meme currencies, as well as the expansion of its DeFi and dApps products and the addition of new partners.
All of these factors could contribute to the exponential growth of ADA token values, which are predicted to reach $25 in 2025 and $50 or more at the turn of the decade, thus increasing your investment by 10,000%.
Keeping in mind the bright future of the crypto market, Cardano is one of the finest cryptocurrencies under $1 to purchase and hold onto.
Your capital is at risk.
4. Dogecoin
The most valued and widely used meme money is Dogecoin. Elon Musk, a well-known entrepreneur, as well as a large number of well-known investors and crypto influencers, support it.
Dogecoin also has a sizable and active fan base, particularly on Twitter and Reddit.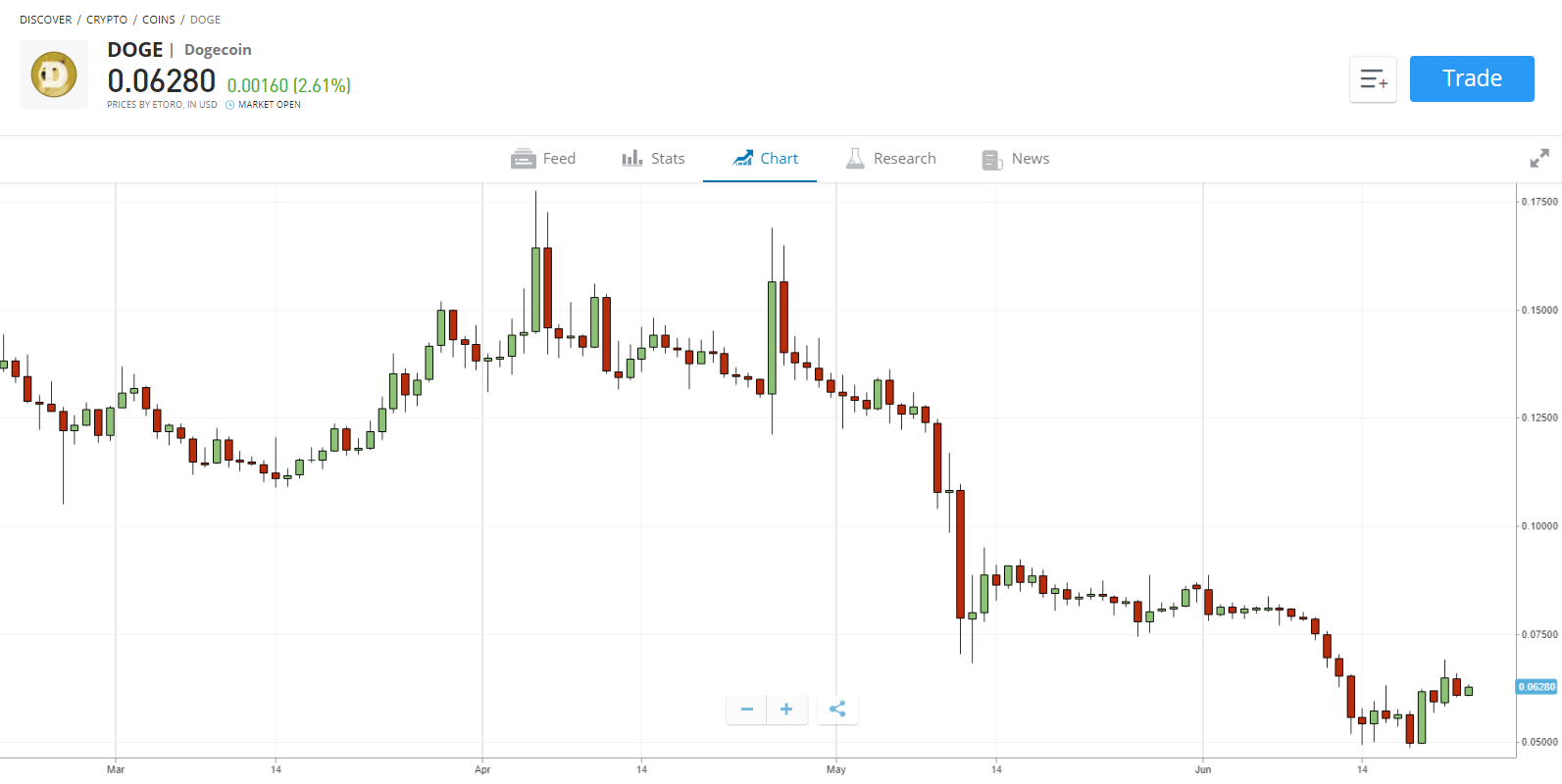 Dogecoin assisted its HODLers in growing their money by around 2000% in the first five months of 2021 and is unlikely to surpass $1 any time soon.
However, it is anticipated that Elon Musk's backing, a meme coin, a reviving cryptocurrency market, and persistent excitement from the crypto community will all continue to drive DOGE's value increase and explode investor portfolios.
This effectively demonstrates why it is one of the most affordable cryptocurrencies available right now.
Your capital is at risk.
5. Chiliz
A special blockchain devoted to sports and entertainment is called Chiliz. It aims to change the degree of interaction between content producers and their audience as well as sports teams.
Through the Socios interaction platform and exchange, it does this. Clubs may use the platform to build their own bespoke governance tokens, which they can sell to supporters in exchange for the opportunity to vote on club matters like a t-shirt design.
The cost of CHZ tokens has fluctuated over the past year between $0.08 and $0.06. However, more clubs are either interested in developing tokens or have already launched tokens on Socios.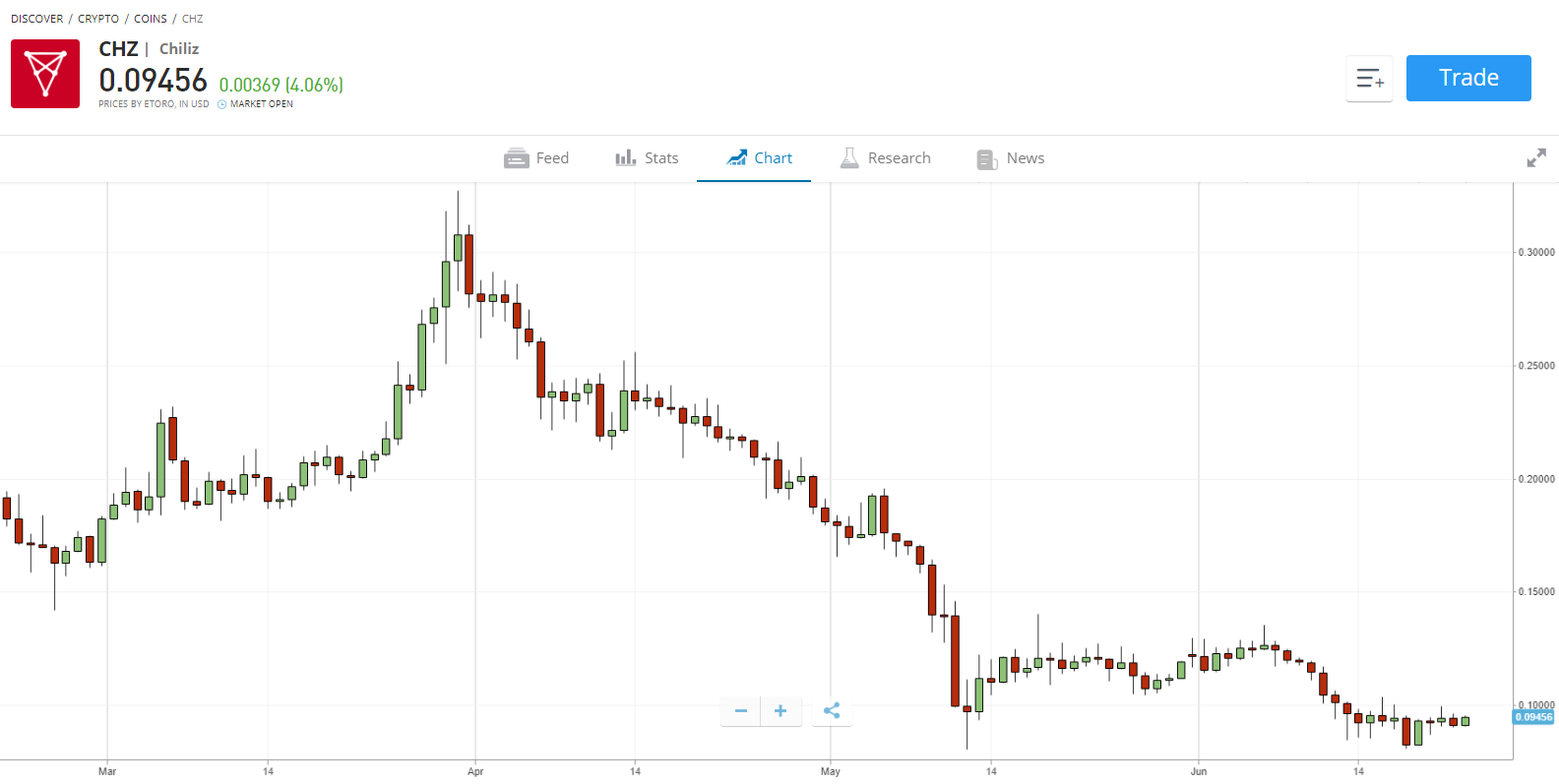 This is a major factor in our selection of Chiliz as one of the top cryptocurrencies to purchase for under $1 in 2022.
Chiliz will also include DeFi items, NFTs, Metaverse, play-to-earn games, event tickets, and loyalty programs on its EVM-compatible main net.
Experts predict that it will reach $15 in the next ten years, which means that if you HODL, you may get a 15000% return on your investment.
Your capital is at risk.

6. Shiba Inu
Shiba Inu is one of the most affordable cryptos available right now. There is a good likelihood that SHIB token values will never hit $1, similar to Dogecoin.
Shiba Inu prices increased by over 5 million percent in early 2021, earning its HODLers ridiculously wealthy thanks to a soaring cryptocurrency market, praise from the crypto community and celebrities, as well as a meme coin craze.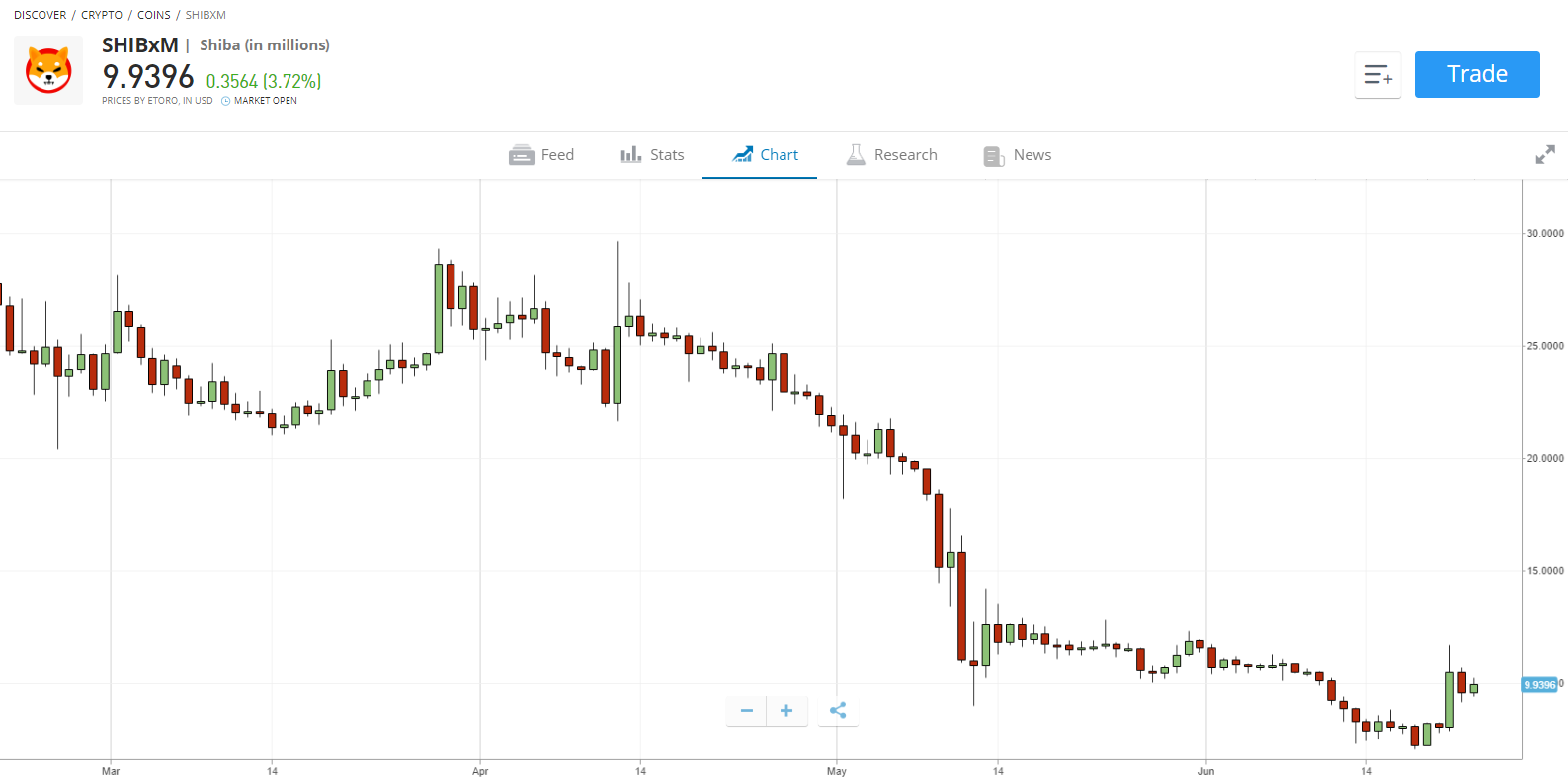 Shiba Inu is widely believed to be ready for another price run that would send investor profiles for SHIB rising given that we are on the verge of another rally.
But this time, the Shiba Inu has more driving its value growth than just a booming market, a supportive neighbourhood, and a meme coin fad.
Shiba Inu developers have recently launched an NFT marketplace, a token launch pad, and partnered with other e-Commerce shops in an effort to expand SHIB's use cases.
SHIB prices and investor portfolios are anticipated to reach previously unheard-of heights as a result of the increase in the burn rate for SHIB token values.
Your capital is at risk.
7. Basic Attention Token
A token-based cryptocurrency called Basic Attention Token was developed by Brave Software and given to Brave Browser users.
It is a cryptocurrency that has a lot of potential and is aimed at the multi-billion dollar internet advertising market.
It rides the privacy wave of the internet and aims to give you greater choice over the kind and quantity of personal information that marketers gather from you, the kinds of advertisements you see, and even the money they provide you to watch these advertisements.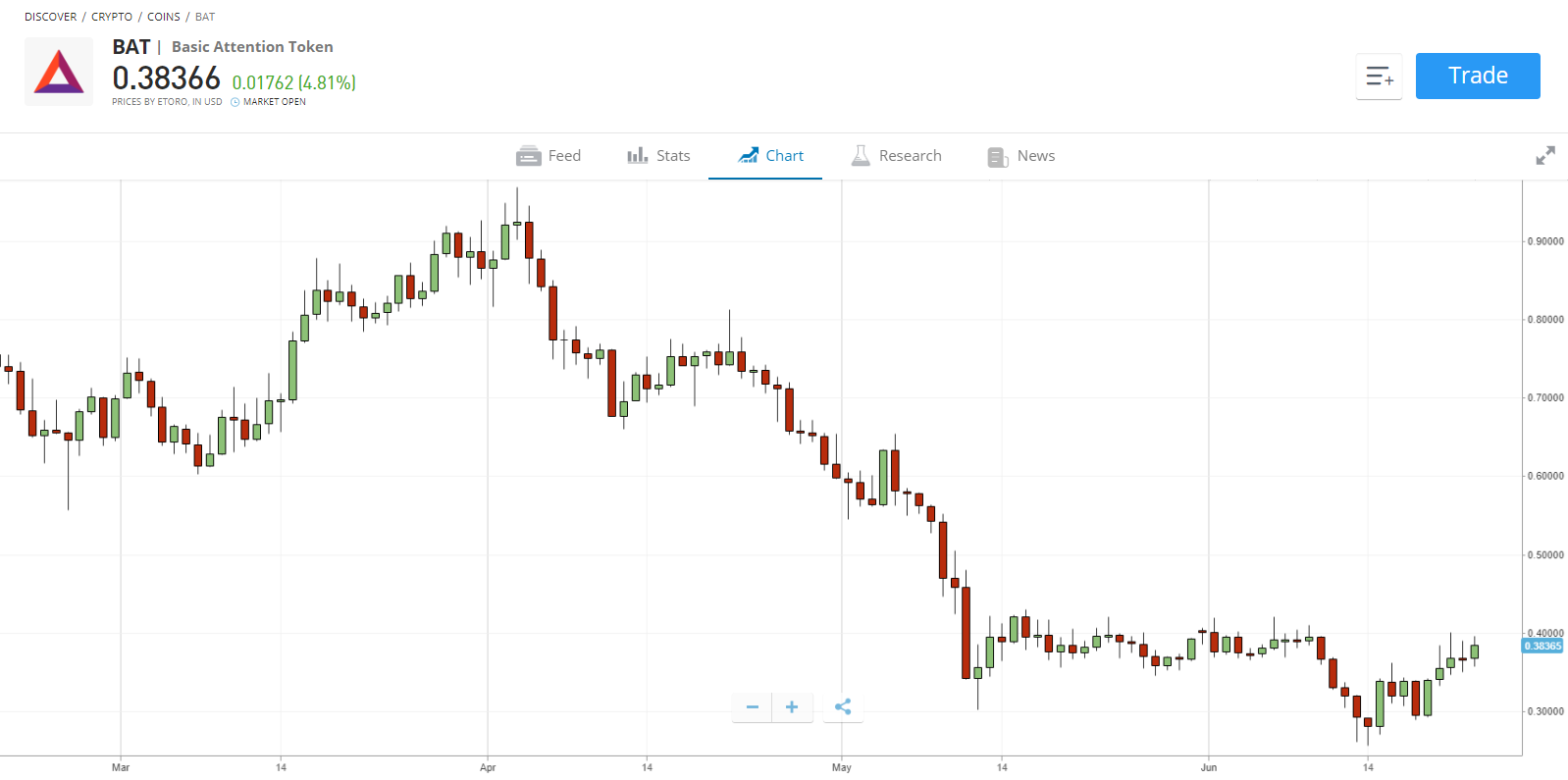 Given that the Brave browser presently has a little more than 50 million monthly active users since its launch in 2017, its popularity is steadily increasing. BAT is one of the top cryptocurrencies under $1 to buy right now.
BAT is now trading upwards of 85% below its all-time high. It is also anticipated that by 2025 and 2030, the token values would be $2 and $20, respectively, indicating the profits upwards of 650% and 6500%, respectively.
Buy Basic Attention Token on eToro
Your capital is at risk.
8. Stellar Lumens
Stellar Lumens is a highly decentralized payments system that is open-sourced, Stellar aims to completely overhaul the global financial system.
The implementation of crypto storage services and financial inclusiveness and reach to the unbanked are two of the major aims that help it gain favor with the crypto community.
Cross-border transactions are another goal of Stellar, and both cash transfers and trades on its decentralized cryptocurrency market are very reasonably priced.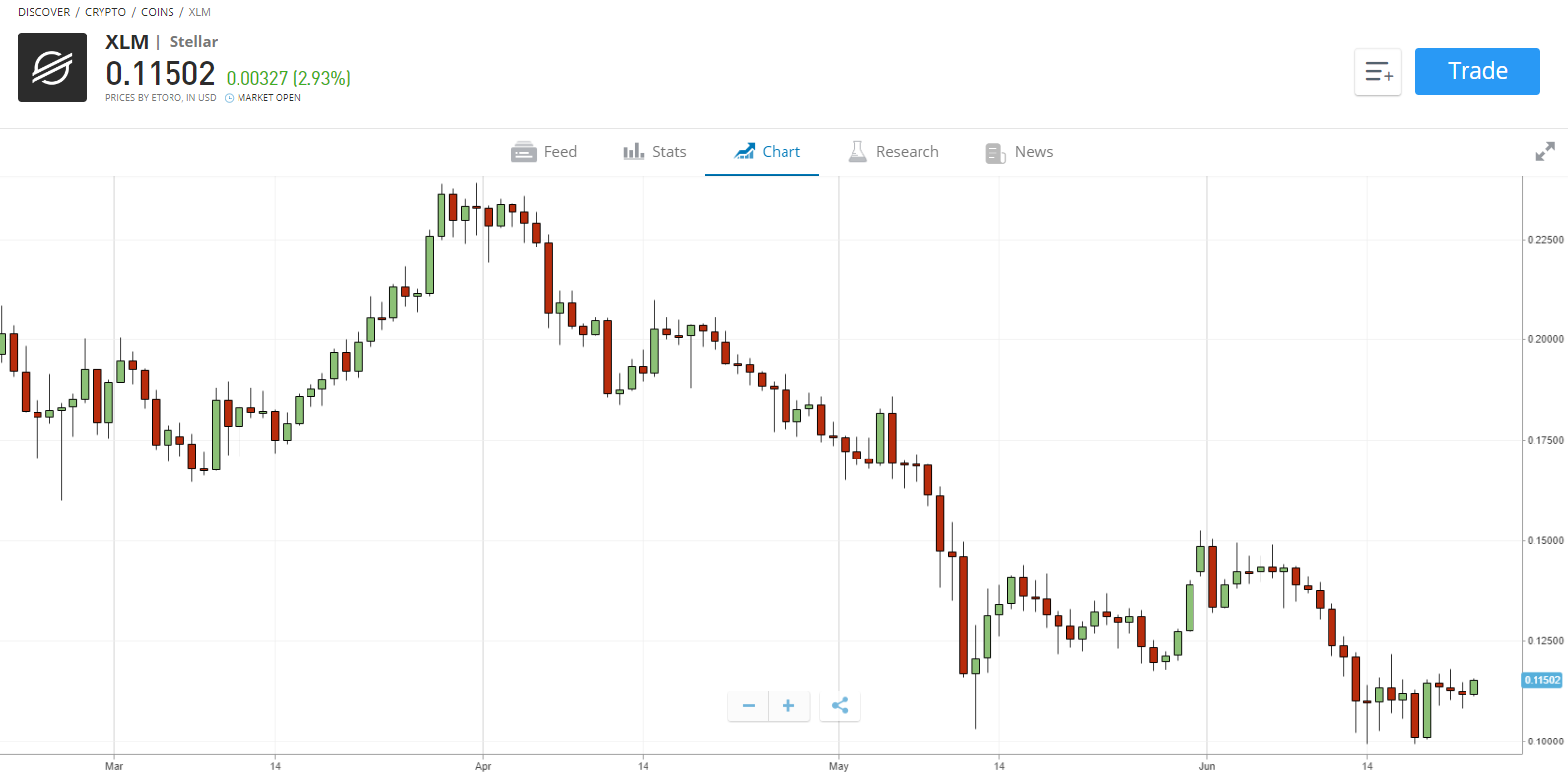 Stellar' blockchain and tokens are becoming more widely used as a result of partnerships the blockchain has already formed with a number of well-known companies, including IBM.
The XLM coins are expected to soar to new heights as a result of these partnerships, in-network advancements, growing acceptance of blockchain technology, and more awareness of Stellar.
Some overly optimistic observers predict that the price of XLM tokens will have surpassed $30 before the turn of the decade. This suggests that you would be getting the token at a 30000% savings if you bought and held it today.
Your capital is at risk.
9. Cronos
Cronos, originally a Crypto.com coin, is the native cryptocurrency of Cronos Chain, a new blockchain network launched by the Crypto.com exchange.
Cronos is also the utility token for one of the most rapidly developing crypto exchanges and DeFi platforms. For example, the staking and lending platform —Cronos Chain DeFi debuted in November 2021, clocked in more than $4 billion in total value by early 2022.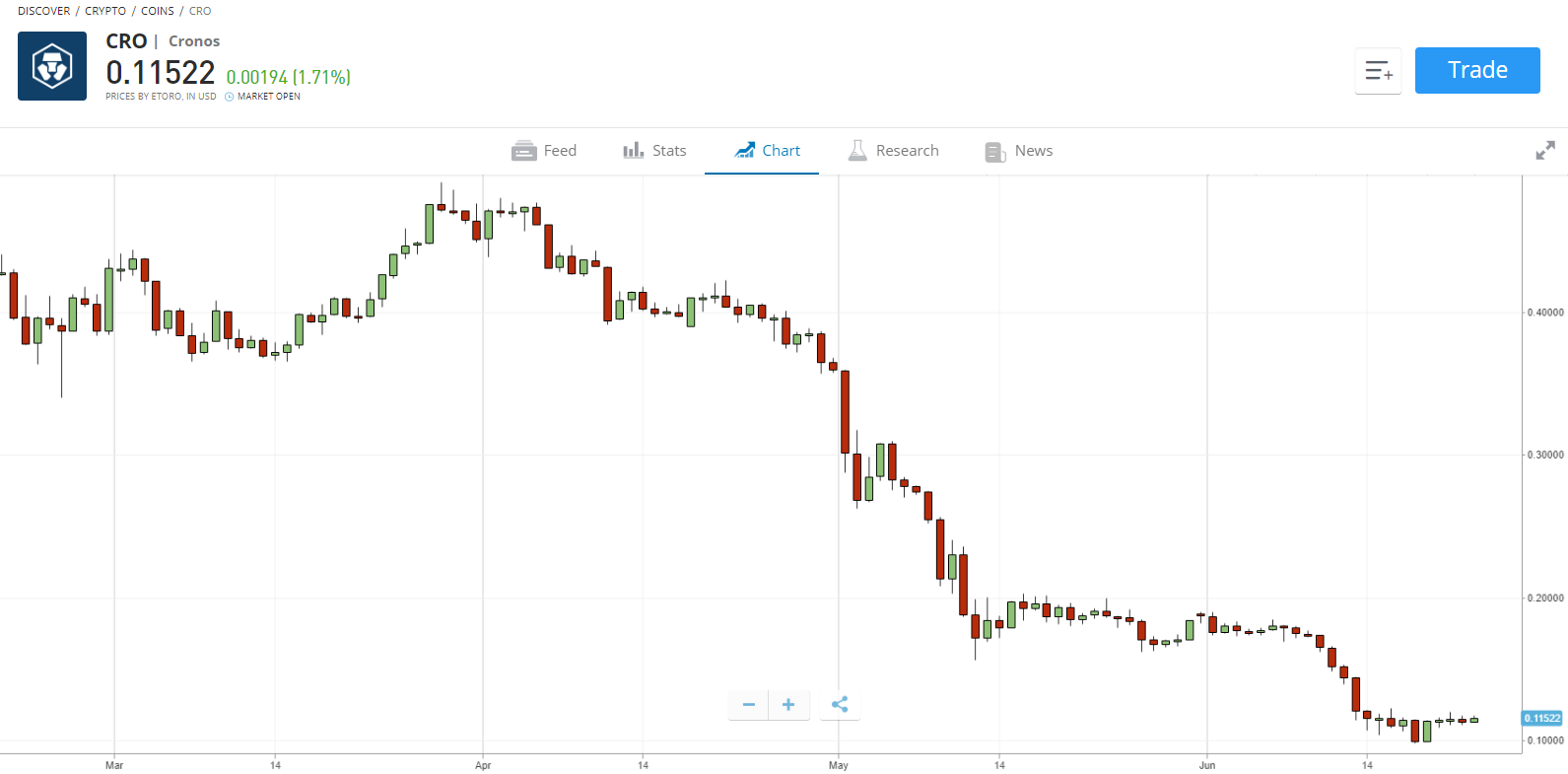 The creators of the Crypto.com and CRO tokens are aggressively expanding the application cases for the alternative currency. They have launched crypto lending and staking services as well as a CRO reward program for the Visa card and Crypto.com Pay payment app.
The price of CRO tokens is anticipated to increase by as much as 10,000% to reach $10 in the following five years, similar to Binance's BNB coins or FTX exchange's FTT coins.
Your capital is at risk.
10. Algorand
The most promising cryptocurrency to purchase for under $1 in 2022 is Algorand. Due to its lightning speed and versatile blockchain technology, Algorand, which was introduced in 2018, has experienced consistent development.
Even though it is presently trading 90% under its all-time high, this has a vast ecosystem and a $2 billion market worth.
In early 2022, the Algorand Foundation proposed grants totalling $20 million to support the development of Ethereum-based decentralized applications (dApps) and $10 million for the creation of an EVM bridge.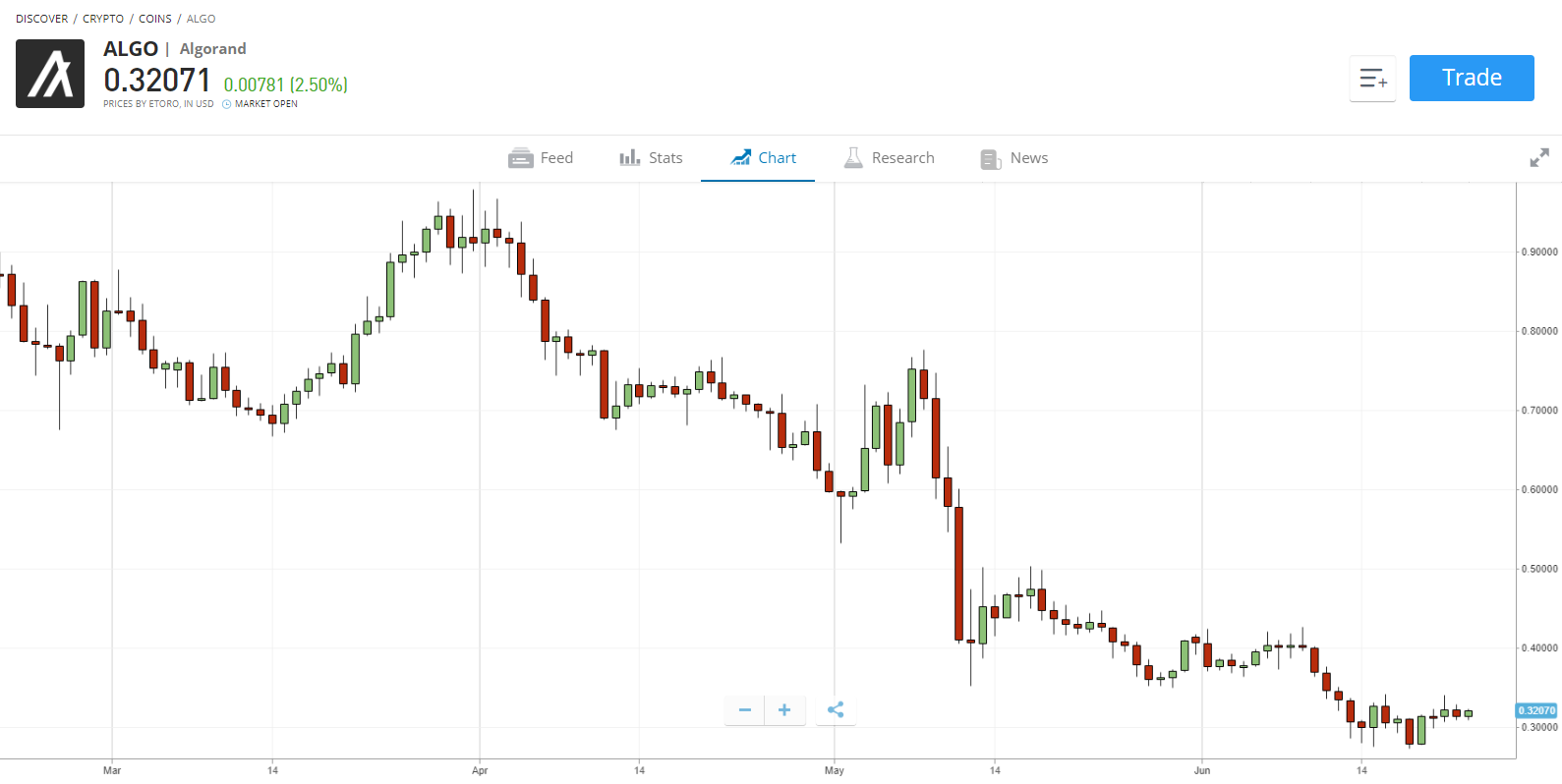 Algorand has gained a lot of awareness as a result, and it has also benefited from several partnerships with both on and off-chain companies. However, the most significant development occurred in May 2022 when FIFA designated Algorand as its official blockchain platform.
Algorand will serve as the official regional partner for North America and Europe in the next World Cup 2022.
All of these are anticipated to help propel the price of ALGO tokens to incredible heights in the future; some analysts predict it will reach $70 by 2030, representing a gain of 23000 %.
Your capital is at risk.
Where to Buy the Best Cryptos?
To buy the above-mentioned Cryptos, you could go to platforms such as eToro, Crypto.com, Binance or Coinbase. All of these are reputed but at InsideBitcoins, we prefer eToro.com.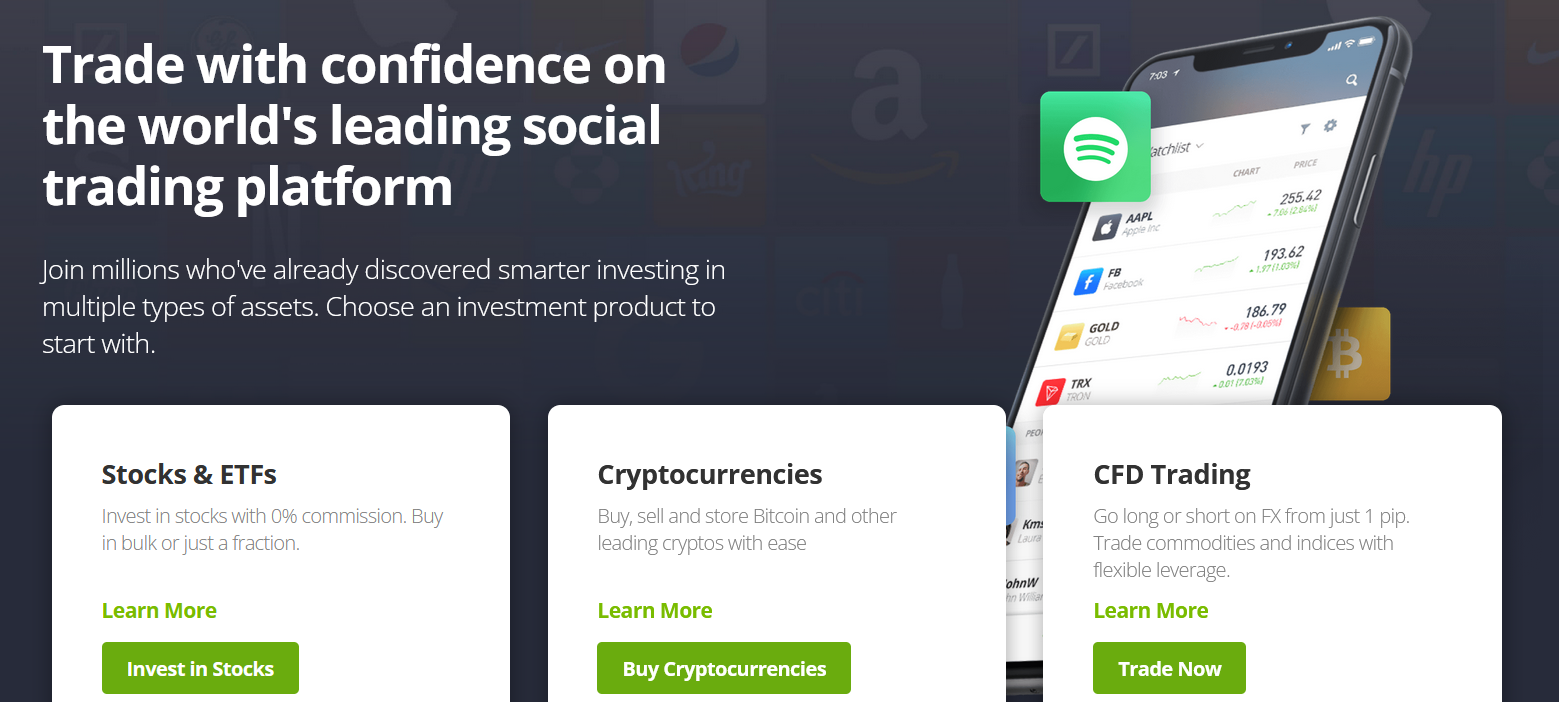 eToro is regulated by organizations such as FCA, ASIC Australia and others. It also offers eToro Crypto Wallet where several investors store their NFTs and Crypto.
The minimum deposit for US users is just $10 and there is no deposit fee. You can go to eToro.com, make your account and start trading cryptos now.
Your capital is at risk.
We hope you found the list of 10 Top Cryptos below $1 helpful.
Read more:
Lucky Block – Our Recommended Crypto of 2022
New Crypto Games Platform
Featured in Forbes, Nasdaq.com, Yahoo Finance
LBLOCK Token Up 1000%+ From Presale
Listed on Pancakeswap, LBank
Free Tickets to Jackpot Prize Draws for Holders
Passive Income Rewards – Play to Earn Utility
10,000 NFTs Minted in 2022 – Now on NFTLaunchpad.com
$1 Million NFT Jackpot in May 2022
Worldwide Decentralized Competitions
Cryptoassets are a highly volatile unregulated investment product. No UK or EU investor protection.