Entertainment
Amanda Seales's Tiffany Wearing AKA Sorority Apparel on Insecure Is Dividing the Internet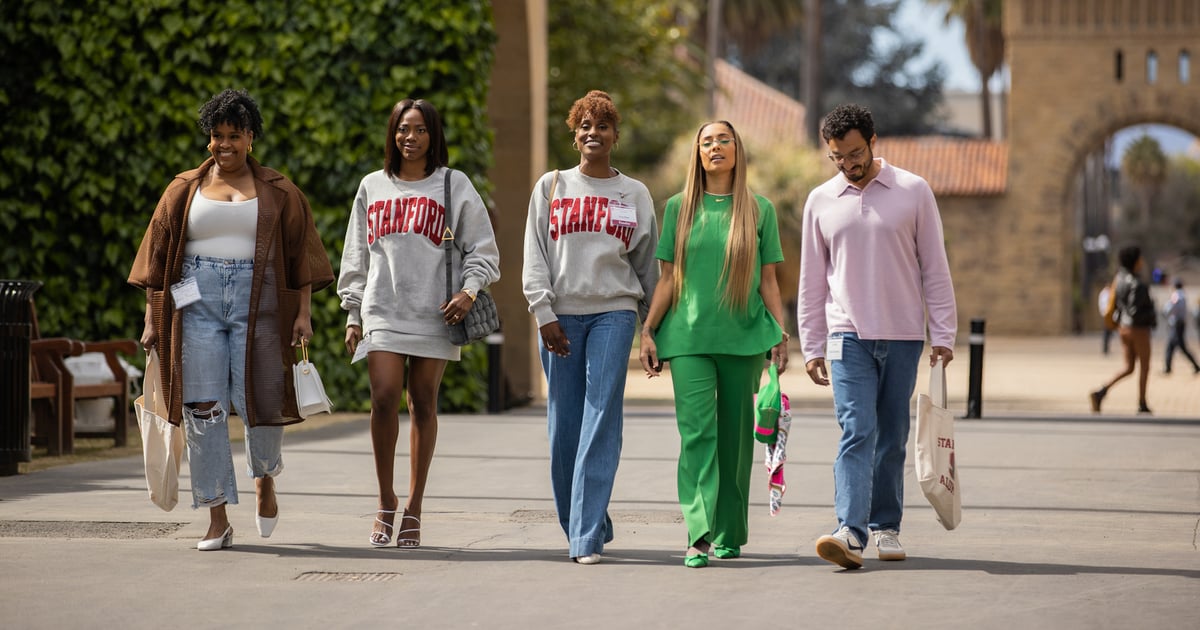 Image Source: HBO
Insecure's season five premiere has taken an unexpected twist on outrage. While many people were upset at Issa's (Issa Rae) breakup with Lawrence (Jay Ellis), a larger conversation has sparked because Amanda Seales's character, Tiffany, wears Alpha Kappa Alpha (AKA) sorority apparel for the majority of the episode. In Sunday's episode, Tiffany takes a trip back to Stanford University with her husband, Derek (Wade Allain-Marcus), and friends Issa, Molly (Yvonne Orji), and Kelli (Natasha Rothwell) for their 10-year reunion. Seales's character reps hard for her sorors, and as a result, she's receiving real-life backlash for her fictionalized portrayal.
"I don't know why people keep asking me if I'm a soror. I am not a soror," Seales said in a video on her Instagram Story on Sunday. "Tiffany is a soror. Tiffany is a character on a TV show. I didn't write the character, I played the character. I am not a soror. I'm an actress and I'm playing a character on a TV show. And I think reality TV done really got folks f*cked up . . . I'm just playing a character. That's it." In another Instagram post, she told fans, "I would be honored to be a member of Alpha Kappa Alpha but I simply am not. When I am Tiffany, I wear the letters with pride and regard and respect for those who did cross the burning sands."
Seales jokingly added that she was "Me Phi Me" when she was in graduate school and did not partake in Greek life during undergrad. Seales also shared a compilation post on her Instagram account of tweets from several people who don't like her but agreed that the outrage is misdirected. "When the internet makes people who dislike you take your side 😂," she captioned the post.
The responses to the episode were mixed, though it's unclear how many of the people who engaged in the conversation are actually members of AKA. One fan tweeted on Monday, "Okay so hold up. This girl is not a Soror and had my SHIELD on her body?! @IssaRae @insecurhbo please do not do that again. That's wildly disrespectful," to which Rae responded, "Oh sh*t. Let me @HBO to delete one of the upcoming episodes then, hold on." Others also pointed out that Molly has been established as an AKA soror since season one, along with Tiffany.
Per AKA, "The Alpha Kappa Alpha Sorority badge, the coat of arms (Sorority crest), the name Alpha Kappa Alpha Sorority, Incorporated (Inc.), the name Ivy Leaf, the sound Skee-Wee and the term Fashionetta are federally registered trademarks with the U.S. Patent and Trademark Office." Its trademark policy adds, "The badge and coat of arms must not be reproduced or used under any conditions without the written permission of Alpha Kappa Alpha Sorority, Incorporated. Reproduction without permission is a legal infringement, and the violator is subject to prosecution."