Casino Life
The Sting Movie Review (1973) ▷ Plot, Critics, and Awards!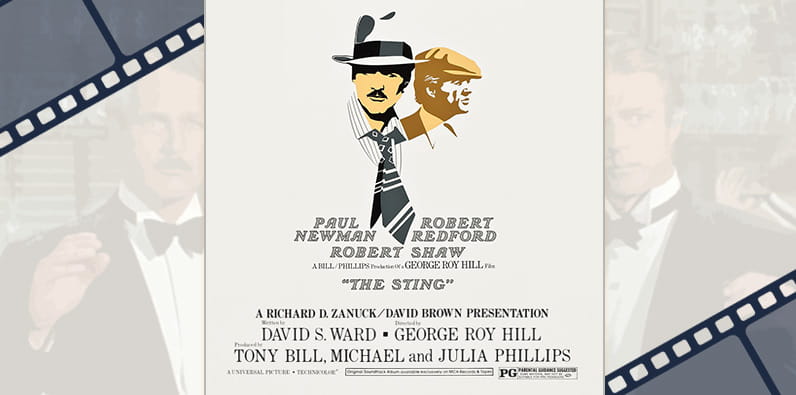 The Sting Movie Review – About the Plot
The Sting movie is set in 1936, amidst the final years of the Great Depression, and follows the bizarre adventures of Johnny Hooker, played by Robert Redford. Hooker is a con man who tricks his unsuspecting victims with the aid of his partners Luther Coleman and Joe Erie.
However, it turns out that one of their debaucheries' target was a numbers racket courier for the vicious crime boss Doyle Lonnegan. Johnny Hooker manages to flee for his life to Chicago and escape the crime boss. Unfortunately, a different fate reaches Luther and the courier, as Lonnegan's men murder them.
The style here is so seductive and witty it's hard to pin down. It's like nothing else I've seen by Hill, and at times, it almost reminds me of Jacques Tati crossed with Robert Altman. It's good to get a crime movie more concerned with humor and character than with blood and gore; here's one, as we say, for the whole family. Roger Ebert, Chicago Sun-Times
In Chicago, Hooker finds a once-great con man named Henry Gondorff, played by Paul Newman. The younger trickster asks Gondorff to help him in taking on the dangerous Lonnegan. After some discussion, they agree to resurrect an elaborate obsolete scam known as "the wire." To do that, they recruit a core team of experienced con men to create a phony off-track betting parlour. Fortunately, in our timeline, there are many licenced online sports betting operators, and if you play there, you cannot be the target of such a scam.
Anyway, back to the 1930s. To put their plan into motion, Gondorff buys into Lonnegan's private high-stakes poker game with the goal to capture his attention. Imagine as if you are not playing at one of your favourite online poker operators but instead, you are surrounded by real gangsters in a smoky room. That is where exactly Gondorff finds himself. Anyhow, amidst the smoky poker room, Gondorff presents himself as a boring Chicago bookie called Shaw and manages to outcheat Lonnegan and score a $15,000.
Not long after, Hooker, posing as Shaw's disgruntled employee Kelly, goes to Lonnegan to collect the winnings. However, while there, Johnny convinces the crime boss to help him take over Shaw's operation. Redford's character reveals that he has a friend that will allow them to win bets on horse races by past-posting.
The Sting is the most purely enjoyable film in Oscar history – and that, I think, puts it in the most valuable American film-making tradition of all. Andrew Pulver, The Guardian
After a few winning bets, Lonnegan agrees to finance a $500,000 bet at Shaw's parlour on Lucky Dan to win. However, that leads him precisely into the trap of the daring duo. He soon figures that he had bet incorrectly and tries to get his money back but is interrupted as half a dozen FBI agents storm the parlour. Two shots were exchanged at that very moment, but we are going to let you experience the ending on your own, as it is breath-taking.
The Sting Movie Criticism – Critics or Praises?
Now that we have gone over The Sting movie plotline, let us look at the critics. Honestly, it comes as no surprise that the film has received very positive feedback from both the audience and the critics. According to Rotten Tomatoes, The Sting movie has performed incredibly well, with a 94% rating from 63 movie critics. Moreover, the audience score is also impressive, standing high at 95%. Have in mind that over 60,000 users have voted and given their feedback, meaning that nearly everyone who had watched The Sting movie had loved it.
The Sting represents one of the most popular, widely-loved films to win Best Picture in the Last half-century and an example of grand entertainment. James Berardinelli, ReelViews
While preparing The Sting film review, our research took us to IMDB, which also showed a similar response by their audience. While going through the individual reviews, we did not find any negative comments whatsoever. Ultimately, both the audience and the critics enjoyed The Sting movie's incredible formula, which consists of beautifully entangled crime with humour.
That interesting mixture makes the movie stand out compared to the classic blood and gore crime films, presenting The Sting as a great family watch. The critics have pointed out the terrific performances from Paul Newman, Robert Redford, Robert Shaw, and all supporting acts.
The Sting Cast, Ratings, and More
The Sting is an American caper film released in 1973. The script was created by the screenwriter David S. Ward. What inspired Ward to come up with this scenario was the story of two brothers Fred and Charley Gondorff, who were real-life con artists. David Maurer documented their preludes in his 1940 book The Big Con: The Confidence Man's Story. Most of the movie was filmed on the Universal Studios backlot, with a few small scenes being shot in West Virginia, Santa Monica, and Chicago.
| | |
| --- | --- |
| 🏷️ Name: | The Sting |
| 📅 Release Date: | Dec 25, 1973 |
| 🤠 Genres: | Drama, Comedy |
| 🎥 Director: | George Roy Hill |
| 📜 Writer: | David S. Ward |
| 🎬 Producer: | Tony Bill, Julia Phillips, Michael Phillips |
| ⭐ Stars: | Paul Newman, Robert Redford, Robert Shaw |
| ⏲️ Runtime: | 2h 9m |
As previously mentioned, The Sting movie has impressed both audience and critics with its great actors. Furthermore, when you watch the film, you will see the incredible talent of Paul Newman and Robert Redford. Their chemistry is so strong that even the scenes where they communicate through sheer looks and gestures are astounding.
The film reignited Paul Newman's acting career as his previous movies were not quite successful. We cannot forget the magnificent performance of Robert Shaw either. His portrayal of The Sting film's main antagonist makes the story's conflict even more exciting and thrilling.
Anyhow, we must also mention the rest of The Sting cast, as they have all contributed immensely to this great hit of a movie. Other great actors who took part in the movie's filming are Charles Durning, Ray Walston, and Eileen Brennan. Following what some of the critics have pointed out, they have done such a great job that even the secondary characters feel fleshed and unique.
The Sting Movie Online
Fortunately for all of us, it is not required to find a retro movie theatre or an old VHS player to see The Sting movie. Since 2015, you can watch this classic film by streaming it online. Furthermore, some of the modern online streaming platforms on which you can find The Sting movie are Apple TV, Amazon Prime, Vudu, Fandango Now. Keep in mind that some of these websites offer a rent option if you do not want to purchase the movie. That means that you can pay to see the film once or for a limited time.
| | |
| --- | --- |
| Apple TV | Amazon Prime |
| Vudu | Fandango Now |
The Sting Movie Awards and Nominations?
The movie was released on Christmas Day of 1973, and it quickly became a massive critical and commercial success. It had impressive success at the 46th Academy Awards, as it was nominated for ten Oscars, winning seven. These awards include Best Picture, Best Director, Best Film Editing, Best Writing, Best Costume Design, Best Art Direction, and Best Music.
However, the recognition did not end there. During the same awards, Robert Redford was also nominated for Best Actor. In 2005 The Sting film was regarded as one of the greatest films ever made and selected for preservation in the U.S. National Film Registry of the Library of Congress for being "culturally, historically, or aesthetically significant."
Final Thoughts About The Sting Movie
The Sting movie is an absolute gem in the annals of the American filmography. It is loved by many and has received a colossal number of awards for its picture, script, directing, and more. We cannot say anything other than that we highly recommend watching The Sting film. The actors, the picture, actually, everything in the movie will give you two hours and nine minutes of pure joy and entertainment.
Frequently Asked Questions
We have reached the end of our blog, and what better way to wrap up our The Sting movie review but to look at some of the queries. Precisely speaking, we have selected a few of themost frequently asked questions regarding The Sting film and answered them for you.