Let It Ride Movie Review 1989 ✅ See the Film's Story, Cast, and Rating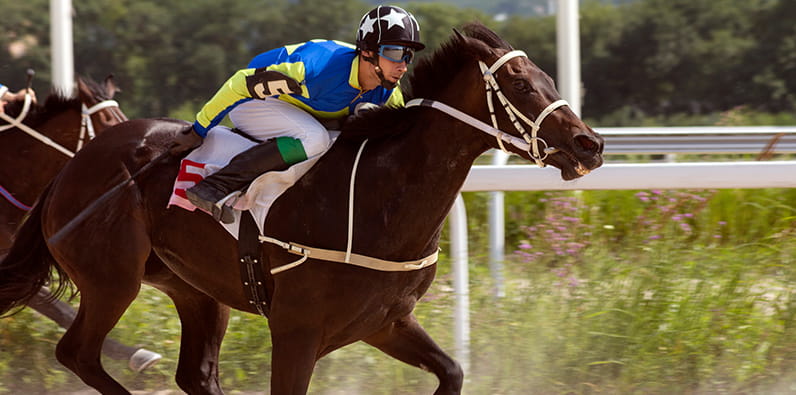 Nowadays, when people say "let it ride," they usually refer to the modern casino table game based on poker. However, in horse race betting, "to let it ride" is a phrase that means to win a bet and immediately put your winnings at stake for the next one. Horse race betting might seem boring to some, but it can be quite humorous once you get to know it. The director of Let It Ride 1989, Joe Pytka, has weaved quite a rich mix of emotions and thrills, captivating viewers and having them on the edge of their seats.
Let It Ride 1989 – Plot Summary and Trailer
The main character of the Let It Ride movie is Jay Trotter (Richard Dreyfuss). He and his best friend, Looney (David Johansen), work as cab drivers. The latter uses a secret microphone in his car to record passengers' conversations because "you never know what you might hear." One day, Looney plays Trotter a recorded discussion regarding a rigged horse race that's coming up. Jay hears the conversation, and he immediately wants to get into the action with a $50 bet.
Jay Trotter has been an unsuccessful gambler his entire life, and his wife, Pam (Teri Garr), wants him to stay away from his self-sabotaging behaviour. Just a day before Jay goes to the track and makes a bet, he promises his wife that he would never gamble again. Before actually putting his money at stake, Trotter goes to the bathroom and prays to God for "Just one big day." He eventually wins $710 and immediately bets all of it.
Trotter seems to be on a hot streak, winning multiple big bets. He assumes that it's really going to be his lucky day, and he decides to "let it ride," betting all of his cash on every next race for the entire day. However, just before making his next huge bet, he is suddenly arrested due to mistaken identity. When he is released shortly after, he finds out that the horse he was going to bet on eventually lost. Trotter already knew it was his luckiest day ever.
Wealthy gamblers and attractive ladies constantly surround Jay. One of the sexy girls is Vicki (Jennifer Tilly), who Trotter seems to fancy. The main character seemingly neglects his wife Pam, who desperately drank alcohol at home because she found out that he was gambling again. After making another large bet, Trotter decides to buy his wife a diamond necklace and go home only to find out that she has passed out.
Trotter then returns to the track and receives the news that he won $68,000. Although his best friend Looney told him to call it a day, Jay knew he had to "let it ride." Then, the main character, despite his friend's advice, makes a final bet of $68,000. Just before the race finishes, his wife comes to the track to thank him for his generous gift. However, we prefer to avoid giving out the most prominent spoiler of the movie. We simply recommend watching this underrated gem!
Let It Ride Movie Review – Cast, Rating, and Filming Location
Films are similar to food recipes – excellent elements make a fantastic end-product. The case with the Let It Ride movie is not much different – it allowed plenty of incredible actors to show their skills. Of course, Richard Dreyfuss, David Johansen, and Allen Garfield had the longest screen time, but there's more to that. If you paid attention to the ticket seller in Let It Ride 1989, you have probably noticed that he's none other than Robbie Coltrane, the actor who portrayed Hagrid in Harry Potter.
| | |
| --- | --- |
| 🐴 Name: | Let It Ride |
| 🗓 Release Date: | August 18, 1989 |
| 📀 Genre: | Comedy, Sports, Farce |
| ⭐ IMDB Rating: | ⭐ 6.8 |
| 🍅 Rotten Tomatoes Rating: | 🍅 75% |
| 💰 Box Office: | $4.9 Million |
| 📽 Director: | Joe Pytka |
| 🎞 Screenplay: | Nancy Dowd |
| 🔥 Starring: | Richard Dreyfuss, David Johansen, Teri Garr, Allen Garfield |
| 🕔 Running Time: | 1h 53m |
While it's true that the Let It Ride movie cast was the main reason for the queues in cinemas, the filming location also played an essential role in creating memorable scenes. The classic flick was set at the historic Hialeah Park Race Track in Florida. The legendary course was established in 1922, and it has been a filming location for successful movies like Public Enemies. Unfortunately, compared to other films that involve gambling like the Casino Royale movie, Let It Ride 1989 wasn't deemed successful.
Interesting Facts About the Movie Let It Ride
In 2021, most films are inspired by books from the past century. The movie Let It Ride was inspired by Jay Cronley's novel called "Good Vibes." Although the film's name was different from the book, the story remained the same – about a guy who can't lose. Let It Ride 1989 was Joe Pytka's first movie ever. At the time, the director was mostly known as the man behind Pepsi commercials. At some point, even Michael Jackson starred in one of the advertisements. The collaboration became famous because the pop star's hair accidentally caught fire while filming.
Numerous media outlets picked up the story between Pepsi and Michael Jackson's hair catching fire – it was the perfect material for a headline. However, there's something even more peculiar we found during our research for this Let It Ride movie review. In order to record the horseracing scenes for the Let It Ride film, Joe Pytka and his team had to rent the whole track, buy the horses, have them trained, and then sold. Such dedication made the movie even dearer to gamblers all over the world.
Watch the Let It Ride Movie Online
Finding classics online like the Let It Ride movie can be quite challenging, especially if you don't know where to look. Luckily for you, we, at bestcasinosites.net, have already done the heavy lifting for you, providing you with the best sites and platforms where you can start watching the Let It Ride film immediately. However, keep in mind that the services you'll see in the table below are not free – you either pay for a subscription plan or rent the movie.
📺 Watch Let It Ride Movie Online

| | |
| --- | --- |
| Amazon Prime | Yes |
| DIRECTV | Yes |
| Reelgood | Yes |
| Netflix | Yes |
| Moviefone | Yes |
| JustWatch | Yes |
| HBO | No |
Similar to the Hustler Film, the movie Let It Ride was produced in the last century. This means that the quality might not be the best. However, from our research, we found that some of the platforms you can see in the table provide streaming services of a higher quality – Amazon Prime, Netflix, and DIRECTV. Indeed, watching the movie online is perhaps our best recommendation, but you can always check your old DVDs at home and see if you have the original disk.
Forms of Gambling in Let It Ride 1989
As we already know, the Let It Ride film is about a horse race punter who is having a day where he can't lose a single bet. However, in real life, that's nearly impossible. You can never be sure about the outcome of a given race, no matter the odds. In horse race betting, you either win or lose – there's nothing inbetween. It takes a lot of analysis and educated guesses in order to make a justified bet.
However, we live in an age where technology is at its peak – you can place bets from anywhere you are. You don't have to go to the racetrack like in the old days. Punters simply visit the best horse racing betting sites and dive into the action immediately. Most sports betting platforms even provide tips and strategies for upcoming events. However, sometimes it pays to bet against the odds, or as they say in the Let It Ride movie: "if you're having trouble picking winning horses, pick against a human loser."
Frequently Asked Questions About the Let It Ride Movie
With our Let It Ride movie review coming to an end, we've decided to create one last section dedicated to the most frequently asked questions about the classic flick. We stumbled upon certain queries that were commonly raised by moviegoers throughout our research, and we've decided to let our experts answer each one of them for you! Let's dive in!