Casino Life
Casino Feuchtwangen ▶️ Futuristic Casino for Poker, Slots & More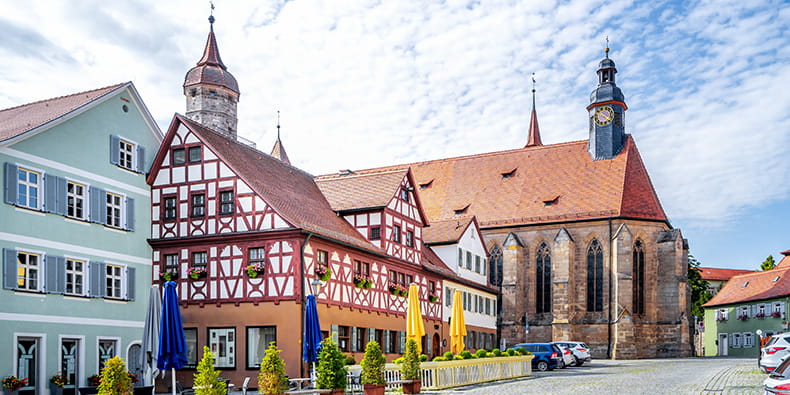 In this blog, we provide you with all the information you need to satisfy your curiosity about Bavaria's second-largest casino or to decide whether this is the next destination on your travel list. Join us on this exploration, and learn about the casino's creation, the city it's located in, the game availability and more.
History & Architectural Style of Feuchtwangen Casino
Feuchtwangen Casino doesn't boast hundreds of years of history like some other popular land-based casinos in Bavaria. Compared to online casinos in Germany, it has a few more years under its belt, as it was opened in 2000. The idea for the casino, however, was born in 1995, when a new casino law was passed in Germany.
Back then, the number of casinos that could be built was limited and strictly regulated. Nonetheless, in 1995, four more casinos could be added to the existing ones. This allowed the city of Feuchtwangen to become the home of the newest casino in the administrative district of Middle Franconia.
Nevertheless, what matters at this casino is not the past, but the future, as reflected in its modern architecture. Construction began in 1998, but the design was ahead of the times. With a blue futuristic look, made from sharp edges, spacious rooms, and a minimalistic landscape, this 20+-year-old casino stands up to some of the newest constructions in 2023.
Feuchtwangen Casino Location & Amenities
We can't talk about the Feuchtwangen Casino without discussing the city it was named after. The casino's history pales compared to its home city and the region. Therefore, in this part of our blog, we look into the significance of the location. Furthermore, if you're curious about the amenities you can enjoy while visiting this casino in Feuchtwangen, keep reading.
Feuchtwangen – Home of Bavaria's Second-Largest Casino
Feuchtwangen is not only the home of Bavaria's second-largest casino but also a cultural and sightseeing attraction. The historic old town part of the city is full of ancient craftsmen's workshops, churches, museums and beautiful stone gates. So, if you ever decide to visit the Feuchtwangen Casino, you will be killing two birds with one stone.
The recorded history of the city goes back to 818. It was first mentioned in documents concerning the Benedictine monastery. Since then, many historical events have shaped the city into what it is today. We won't focus on its full history too much, but we would like to mention one appealing site – the open-air theatre.
When we examine the casino, we do it in combination with the attractions in the region. That is why you would be happy to learn that another exciting experience is the open-air theatre performances in the city. The backdrop is a majestic church, and the evening air is filled with romance – the perfect prelude to a memorable night at the casino.
Casino Feuchtwangen Restaurant & Bars
Now that it's clear what the city offers, it's time to look at what entertainment amenities Feuchtwangen Casino has prepared for local and foreign visitors. The casino has 4800 square meters of usable space, so there's a lot to explore. Easily accessed by car and situated right next to the nearby motorway, this casino has a restaurant, two bars, an event stage, and numerous gaming rooms.
The casino and its game collection have been examined in more detail later, so don't miss that. However, for now, let's give its restaurant the much-needed spotlight. The Casino Feuchtwangen Restaurant is called 'Förster' and offers food lovers a fine cuisine experience. The best online casinos in Bavaria may have more games and offer convenience, but you can't try delicious German specialities online.
Casino Feuchtwangen – Poker Tournaments, Slots & Table Games
Casino Feuchtwangen has many games on offer, but they can mainly be grouped into three categories – slots, live table games and poker. When it comes to the slots, they have their own floor, and if you want to try them all, you will need a few days since there are over 200 of them.
Next, we have the live table games, which include different variations of roulette and blackjack. The number of tables for each game differs, and the same goes for the Casino Feuchtwangen poker options. However, there's no need to wonder because we've got you covered. Take a look at the list below that provides an overview of all games and the available tables.
🎰 220 Slot Machines (Jackpots, electronic roulette, electronic bingo, keno, video slots and more)
🦅 American Roulette (2 tables)
🥐 French Roulette (2 tables)
♣️ Blackjack (2 tables)
⬜ Punto Banco (1 table)
♦️ Bavarian Stud Poker (2 tables)
🃏 Poker Tournaments (4 tables)
As you can see, roulette is a popular game at Casino Feuchtwangen, with 4 tables. In addition, it's important to note that the minimum bet for it is just €1. Similarly, blackjack is also played at the casino. However, for blackjack, the minimum bet is slightly higher at €5, while the maximum bet is €1000.
Slot Selection at Casino Feuchtwangen
This modern casino in Feuchtwangen has a wide selection of slots. As we mentioned, there are 220+ slots that also offer a lot of gameplay variation. Some of the most popular slots there are the 4 jackpot slots. In addition to variety, the Feuchtwangen Casino also has incorporated a modern and easy way to play the slots.
The casino provides its players with a Casino Card. The process of using it is effortless, as all you need to do is load the card (maximum of €250) and swipe it at the slot to play. All stakes and winnings are directly credited to the card. Finally, all winnings can be withdrawn at the cash register or the self-service terminal.
Live Table Games at Casino Feuchtwangen
The live table games at Casino Feuchtwangen are also not to be ignored. For players who like that person-to-person interaction and are looking for excitement, the live table hall is where you need to be. What is so great about the roulette and blackjack tables is that they are quite popular with players, so you will not be bored.
Furthermore, there is one that is a bit more unique, so we have to tell you about it. Casino Feuchtwangen offers Punto Banco, a card game where you have to predict the winning field. This is great for you, as no matter if you are playing online or in a land-based casino, the house edge is small. Hence, you have a high chance of making a profit.
Casino Feuchtwangen Poker – Exciting Tournaments
The Casino Feuchtwangen poker tournaments are popular across Bavaria. This is where many of the region's top players gather to meet one another and play some exciting poker. In Germany, the passion for poker is real, so at this casino, they hold regular tournaments to meet the high demand.
Opening Times, Entrance & Dress Code Rules
There are a few rules that you need to adhere to when visiting Feuchtwangen Casino. For example, according to the gambling laws in Germany, you have to be 21 to enter the casino, so the most important thing you need to bring is your ID card. It will certainly be checked at the door, along with your outfit. At Feuchtwangen Casino, they are not too strict, but there is still a dress code.
In this next section, we discuss these rules in more depth to make sure you are prepared. Furthermore, one of the most important things is to know when the casino is open. Not all games and tables are available at the same time, so consult the table we have prepared to find out when you can play.
🎲 Games Offered at Casino Feuchtwangen
⌚ Opening/Closing Times
American Roulette
Sunday-Thursday: 15:00-02:00 ;
Friday & Saturday: 15:00-03:00
French Roulette
Blackjack
Bavarian Stud Poker
Tuesday, Thursday, Friday, Saturday: 20:00-02:00
Poker Room
Tuesday, Thursday, Friday: 20:00-02:00
Slot Machines
Sunday-Thursday: 12:00-02:00 ;
Friday-Saturday: 12:00-03:00
We hope this information helps anyone planning a trip to Feuchtwangen Casino. However, please keep in mind that these times are subject to change. Furthermore, try to avoid big holidays in Germany since the casino is not open on Good Friday, Day of Repentance and Prayer, All Saints' Day, Memorial Day, Sunday of the Dead and Christmas Eve.
Entry Fees & Age Requirements for Feuchtwangen Casino
As we mentioned, according to the gambling laws in Germany, you have to be 21 to enter this or any other casino. So, bringing a valid ID card is crucial. Feuchtwangen Casino has a strict policy, and every visitor's ID is checked at the door. Finally, once that is all cleared up, all you need to do is pay the entrance fee of €2,50, and you're in.
You can enjoy the games at the casino until they close. However, when the casino closes and opens, and when certain games are available, is a bit tricky, so make sure to check beforehand. If these times are a bit too hard to track for you, maybe a casino with a more constant schedule, like Casino Baden-Baden, is more suitable for you.
Feuchtwangen Casino Dress Code – Dressy Casual
In addition to your ID, at the door, the security might check your outfit. However, Feuchtwangen Casino's personnel is not too strict, so you don't need to feel judged. The casino is, without a doubt, fancy, but the overly traditional wear that requires a suit and a black tie is not a must here.
Casino Feuchtwangen's dress code is dressy casual, so no need for a tie. Nonetheless, you must be dressed neatly. For men, this means jackets and shirts, as well as formal pants. Remember, no jeans are allowed. Meanwhile, for the ladies, a cocktail dress, blazer or just evening wear would work, as long as there is no denim.
Frequently Asked Questions
We've reached the end of this informative blog. We hope you found it intriguing. Nevertheless, if something about Feuchtwangen Casino was unclear, we have prepared some frequently asked questions. Take a look, and you might find more useful information.