Casino Life
 Ocean's Eleven Movie Review ᗎ A Classic Gambling-Themed Film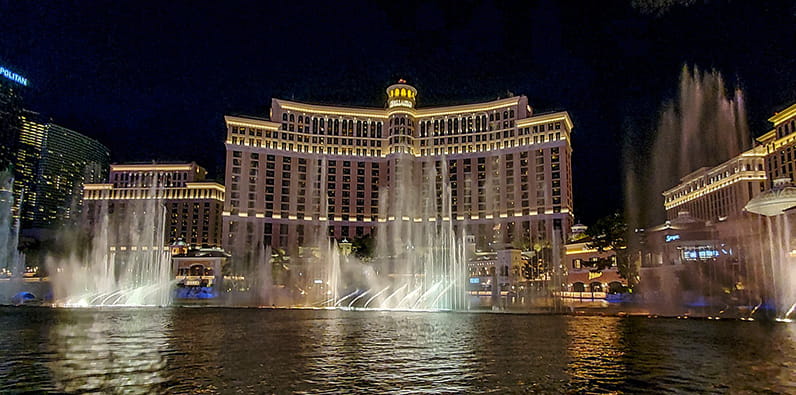 In this review, you will find extensive information about this 2001 hit, including the plot, the cast behind it, its location of shooting, ratings and where it can be streamed. We will wrap up our review with a final verdict on whether this movie is worth watching or not. So, let's not waste any more time and start with our overview of the movie.
Ocean's Eleven Movie (2001) – Plot and Trailer
This American heist comedy movie is directed by Steven Soderbergh and written by Ted Griffin. It was released on December 7, 2001 and is based on the popular Ocean's Eleven 1960 movie starring Frank Sinatra. The production company behind it is Warner Bros. Pictures – one of the leaders in the business. The budget of the movie was $85 million, and it ended up making a revenue of $450.7 million.
The storyline of the film follows Danny Ocean, a con artist, who, upon his release from prison, quickly violates his parole by flying to California to meet his partner in crime, Rusty Ryan. The two of them proceed to design a clever scheme to rob 3 casinos simultaneously on one of the busiest nights during a highly anticipated boxing match. The estimated cash that is expected to be held at the vault is $150M – way more than what ordinary real money online casinos accumulate.
However, they are aware that such a task requires exceptional preparation and a large team of exceptional scam artists with various talents. So, they visit Las Vegas and start gathering their team. Among the people they invite to join them is Reuben Tishkoff, an expert on casino security, Linus Caldwell, a young and talented pickpocket, Frank Catton, a casino worker, "The Amazing" Yen, an accomplished acrobat, and other specialists. You can look at some of them in the Ocean's Eleven trailer we have provided:
After the team is set, they begin working on their clever scheme by initially studying the architecture and security system of the casino and then building an exact replica of the vault for training purposes. During the planning phase, the team discovers that the girlfriend of the targeted casino's owner is the ex-wife of Danny Ocean. Tension is created among the partners, as some of them believe the whole scheme is nothing but the revenge of a jealous man.
On the night of the fight, the plan is put into motion consisting of a series of schemes starting with hijacking the cybersecurity of the casino and having full control of all surveillance cameras. All 11 expert criminals then proceed to perform each part flawlessly and end up walking out of the casino with $150M without getting caught. In Ocean's Eleven full movie you will be able to see the whole genius operation take place.
Ocean's Eleven Film – Incredible Cast and High Ratings
Ocean's Eleven 2001 cast has gathered some of the most famous Hollywood actors, such as George Clooney as Danny Ocean, Bernie Mac as Frank Catton, Brad Pitt as Robert Ryan, Matt Damon as Linus Caldwell, Julia Roberts as Tess Ocean, Andy Garcia as Terry Benedict and others. Ocean's Eleven 1960 edition also has a prominent cast, including Frank Sinatra and Dean Martin. In the table down below, you can see some of the characteristics of the 2001 best-selling movie.
| | |
| --- | --- |
| 🃏 Name | Ocean's Eleven |
| 🗓 Release Date: | December 7, 2001 |
| 📀 Genre: | Heist comedy |
| ⭐ IMDB Rating: | ⭐ 7.7 |
| 🍅 Rotten Tomatoes Rating: | 🍅 83% |
| 📽 Director: | Steven Soderbergh |
| 🎞 Screenplay: | Ted Griffin |
| 🏝️Filming Location: | Las Vegas |
| 🔥 Starring: | George Clooney, Brad Pitt, Julia Roberts, Matt Damon |
| 🕔 Running Time: | 127 Minutes |
The movie is highly acclaimed by viewers and critics, and some have placed it among the best movies of the decade. Rotten Tomatoes has given Ocean's Eleven a high rating of 83% based on 179 reviews with an average score of 7.00/10. IMBD also has given a high rating of 7.7 for the film, which puts it among the best in the genre.
Ocean's Eleven Casino – Does it Exist in Real Life?
Ocean's Eleven casino, which is featured in the film is called the Bellagio and it is a part of the Las Vegas strip in Paradise, Nevada. One of the most notable features of the resort is an 8-acre lake situated at the front of the building, which is home to the Fountains of Bellagio – a large dancing water fountain, synchronised to music. The hotel and casino are a spectacular sight worth visiting in Las Vegas.
The resort is a setting for numerous films and music videos, including Ocean's Eleven, Ocean's Thirteen, Bruno Mars's "24K Magic" music video and the movies Bolt and 2012. It has become an iconic sight for Las Vegas and is a tourist-favourite attraction. The Bellagio has been the target of several Las Vegas robbery attempts in real life as well as on-screen.
Interesting fact:
 The Bellagio let the crew tap into their security system to get real surveillance footage of the casino.
Unlike many of the online gambling websites, the Bellagio is a renowned land-based casino and hotel which has been around for ages. It contains a conservatory and botanical gardens with five seasonal themes – Chinese New Year, spring, summer, fall, and winter. The conservatory is situated next to the hotel's lobby and is open to the public.
This resort also houses a special exhibition space, which displays artwork on loan from various museums and private collections from around the world. It was initially situated near the grand staircase that Julia Roberts descended in Ocean's Eleven 2001 but has changed its location to accommodate larger crowds.
Where to Watch Ocean's Eleven Online
As you can see, Ocean's Eleven 2001 can be found at most of the online streaming services out there. If you are a Netflix fan, you will be pleased to know that they also have Ocean's Twelve and Thirteen in store, as opposed to just the first one. Another popular choice among fans is via the Amazon Prime platform, which has a large movie collection for a reasonable fee.
| | |
| --- | --- |
| Amazon Prime | ✅ |
| DIRECTV | ✅ |
| Reelgood | ✅ |
| Netflix | ✅ |
| Moviefone | ✅ |
| Vudu | ✅ |
| HBO Max | ✅ |
The abovementioned streaming services are advanced, and you can rest assured that the quality of the movie would be impeccable. Bear in mind, however, that some platforms have restrictions regarding your country of residence and may not allow you to stream their movies. For the UK the most popular choice remains Netflix and if you have a subscription, be sure to consider these top 10 gambling movies on Netflix.
Final Verdict – Is Ocean's Eleven Worth Watching?
As our Ocean's Eleven movie review is preparing to wrap up, it is time for our final verdict. Ocean's Eleven full movie is filled with lots of incredible action scenes, clever schemes, impeccable acting, and numerous moments that will keep you on the edge of your seat. Ocean's Eleven casino of choice as a setting is the marvellous Bellagio resort situated on the Las Vegas Strip and is another great perk of the movie. It is altogether a movie worth seeing by gambling fans.
FAQ
In the last section of our review, we will provide our readers with answers to some of the most frequently asked questions regarding Ocean's Eleven 2001 movie. We hope they will give you a more in-depth overview of the film.