Blogs
Los Angeles Rams vs. Cincinnati Bengals 2023 NFL Odds, Time, and Prediction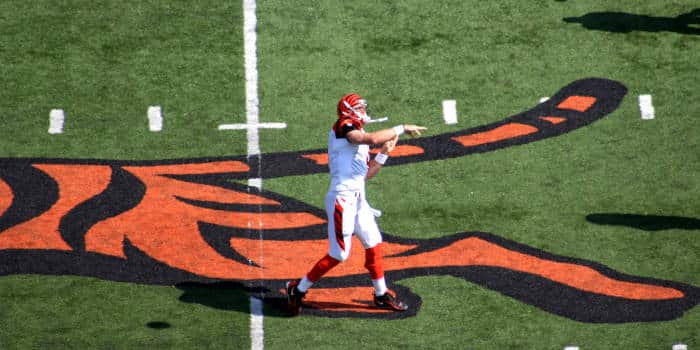 The last time the Cincinnati Bengals won a game was in the AFC Championship game when they beat the Buffalo Bills. They're 0-2 in the 2023 season and are desperate for wins. They need them not only to get into the race for the playoffs but also to get a morale boost. The good news for them is that they should have a relatively easy job against the Los Angeles Rams on Monday, September 25. The visitors from California are 1-1 this season, but they just don't have as good a roster as the Bengals.
Rams vs. Bengals Odds
| Spread | Odds |
| --- | --- |
| Los Angeles Rams +2.5 | -118 |
| Cincinnati Bengals -2.5 | -104 |
| Moneyline | Odds |
| --- | --- |
| Los Angeles Rams | +108 |
| Cincinnati Bengals | -126 |
| Points Total | Odds |
| --- | --- |
| Over 43.5 | -110 |
| Under 43.5 | -110 |
*Odds taken from FanDuel on Tuesday, September 19.
When, Where, and How to Watch?
Place: Paycor Stadium in Cincinnati, Ohio
Date: Monday, September 25, 2023
Time: 8:15 PM ET
How to Watch: ESPN
Los Angeles Rams are Doing Better Than Expected
The Rams do not look like a team that can achieve a lot in 2023. Their roster just isn't as good as during the Super Bowl-winning season two years ago, although they still do have a couple of elite players. Defensive linesman Aaron Donald remains one of the best defensive players in the league, while on the offense, they've got Matt Stafford as their quarterback. Their running back Kyren Williams is in top shape, the same as his colleague Cam Akers.
They also have a fantastic wide receiver in Cooper Kupp, who used to be discussed as one of the best offensive players in the NFL. Unfortunately, he's out with an injury and won't return until Week 5, the very least.
His return is very much anticipated in the Rams roster as they need every player to give their utmost to help the team in 2023. They've been doing okay so far, with one win (over Seattle) and one loss (to San Francisco), but who knows what the future holds.
Cincinnati Bengals are Overdue a Win
Before the start of the season, the Bengals were seen as one of the potential candidates for the Super Bowl. They did great in the offseason, patching up the holes in their offensive line, which was their Achilles' heel in the past couple of seasons. On top of that, they extended their quarterback's contract, making Joe Burrow the highest-paid player in the history of the NFL.
However, since inking a new deal, Burrow hasn't done much. Nor have his teammates, the result of which is that Cincy is 0-2. The worst thing is that they lost their two games to their AFC North rivals – Cleveland Browns and Baltimore Ravens.
Sure, there's plenty of time for them to get back in shape, but if they lost to the Rams in the Week 3 MNF game, alarm bells will start ringing.
Rams vs. Bengals Prediction
The Bengals are much, much better than Rams in all aspects of the game. However, their recent form has been dreadful with many of their key men making some rookie mistakes in 2023. Nevertheless, all of that will be forgotten if they start winning again. And we think they will!
Picks: Cincinnati Bengals to win and cover the spread