Blogs
BCLC Launches Ticket to Ride Inspired Instant Ticket Game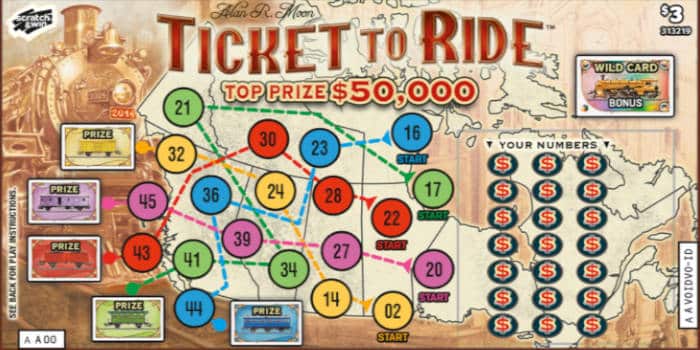 Ticket to Ride is one of the best board games to date, having sold millions of copies, and become a signature title for Days of Wonder in general. This is the lottery industry's first-ever game based on the acclaimed game and it offers plenty of cool things and ways that players can experience the new title.
All Aboard One of the Best Instant Lottery Games
The gameplay of the instant ticket title tries to follow the original board game, with players asked to claim routes, connect cities, and build the longest rail line to score the best results. A top prize of $50,000 is featured in the game, along with a wild card bonus. For just $3, players are offered a chance to explore the Canadian railway network and the accompanying scenery.
The game's artwork was done by Pollard Banknote, which has made sure that the lottery game does the tabletop experience justice, echoing its feel, look, and atmosphere. The game uses the lucky lines play mechanic, allowing players to embark on an exciting journey that can bring them a hefty win.
The wild card bonus will allow players to claim even better prizes, making the experience one of the best instant lottery games that any company has to offer today. Pollard Banknote will do more to help the product take off, however, as the company is also offering an integrated and multi-faceted marketing program to ensure that the company reaches more people on social media.
Pollard Banknote will also work on a how-to-play video which will be available on the BCLC's website. Commenting on this opportunity, BCLC senior product specialist, instant games, Erin Neoh welcomed the chance to offer players in British Columbia a brand new way to experience the spirit of Ticket to Ride. He added:
Collaborating with Pollard Banknote has resulted in a great new game that will provide our players with many moments of excitement and adventure and is a welcome addition to our Scratch & Win portfolio.

BCLC's Erin Neoh
Reimagining the Instant Lottery Segment with Ticket to Ride
Pollard Banknote VP of sales & marketing Brad Thompson was similarly stoked at the opportunity to see BCLC go through with this innovative launch and introduce the popular tabletop experience as an instant play ticket game. "Our licensed portfolio features many established game brands, such as Ticket to Ride, which translate seamlessly into engaging instant tickets for all types of players," Thompson assured, speaking of the significant effort that Pollard Banknote has put in to develop outstanding games across the board.