Blog
Latest House Party Trends: Old-School's on the Menu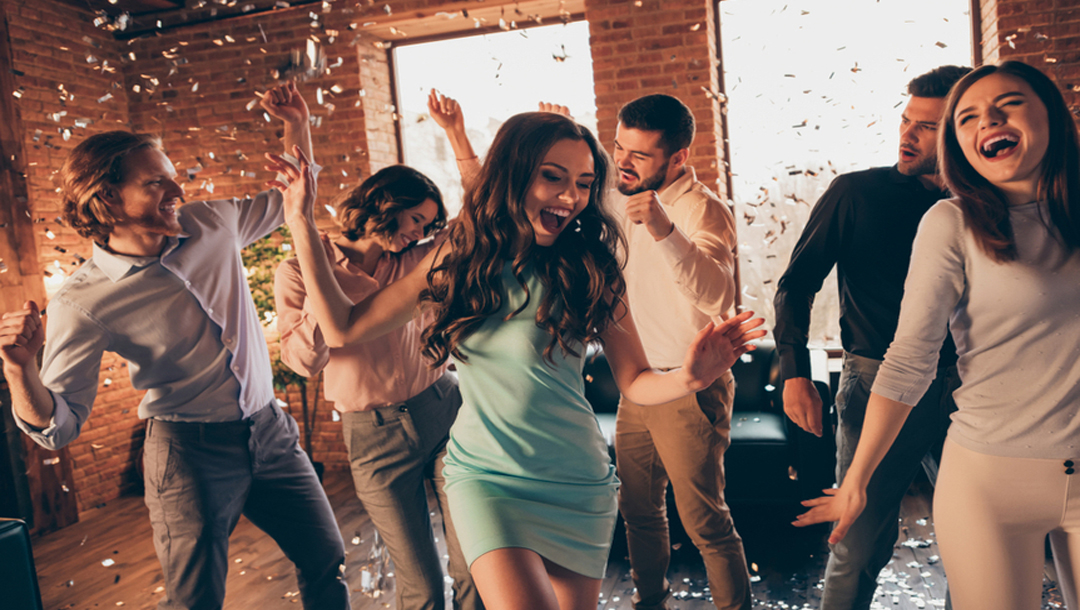 Follow our tips and tricks for rolling all the glamour of the Roaring Twenties into a night of casino table games entertainment, and you'll have a house party people will talk about long after they've headed home.
Inspiration
Draw your inspiration from F. Scott Fitzgerald's classic novel, The Great Gatsby. Not familiar with it? Watch the Warner Bros. 2013 remake starring Leonardo DiCaprio and Carey Mulligan, available on iTunes, Redbox and Amazon.
Decor
Shop online at Amazon, Etsy or your local party store for gold, black and white balloon sets, napkins, and Art Deco-inspired signage, wall art and table centerpieces. Think diamonds and pearls, fake feathers and metallic sparkle.
Dress code
This was an era of jazz and excess, so when sending your invitations, make sure your guests know that more is more in this case. From shimmering satin side-split dresses and fringed knee-length frocks to suits and hats (fedoras, homburgs, or round bowlers) or formal tailcoats or tuxedos, high style is in.
The menu
Make your own cocktail recipes or give your guests a genuine taste of the 1920s by serving a selection of Old Fashioned, Sidecar, Highball and Bee's Knees cocktails. Bite-sized or finger foods are always easier to handle at a house party and won't interfere with the entertainment you've laid on, so serve up a delicious combination of deviled eggs, shrimp cocktail, Oysters Rockefeller, and plenty of platters that include cheese, olives and a selection of nuts.
Playlist
Make your choice of old-school house party music easy by taking your cue from The Great Gatsby soundtrack that features a mix of genres, including hip hop, jazz and alternative music. Your guests are sure to get into the mood with tracks like 100$ Bill by Jay-Z, Back to Black by Amy Winehouse and Bang Bang performed by will.i.am with a jazz composition Charleston and Louis Armstrong-inspired vocals.
Activities
Your activities will depend on the budget you have to spend. If it's a big occasion and you're going all out on your casino theme, you can rent gaming equipment like slots, and poker and roulette tables, along with certified dealers, so your guests get to play casino games in a setting that's pretty close to the real deal.
For a more budget-friendly and up-to-date approach, create a virtual casino night. Check out an online casino to view all the games you can play. Make sure your guests know to bring their favorite devices, whether a smartphone or tablet, and make a list of the online casino games that you think will interest them based on their skill level.
Up the ante by setting up competitions with prizes, or brag-value, for whoever earns the most money or chips during the night. You could even opt for multiplayer live dealer games or have several guests participate in the online poker tournaments that take place daily on your favorite site.
Back to the 90s
There's no need to head too far into the past or break the budget to throw a house party to remember. Who wouldn't want to head back to the 1990s for some shake-your-booty pop music, inflatable furniture and the chance to wear butterfly hair clips again?
Inspiration
Take a peek at New Line Cinema's House Party that showcased the talents of Robin Harris and a breakout performance by Martin Lawrence. It involves the classic plot of "my parents are out of town so I'm throwing a house party" and all the chaos that follows, but it was the original movie that set the tone for all the others in this genre that followed. You can watch House Party on HBO Max, iTunes and Amazon.
Decor
Make your Back to the 90s house party all about color and hip-hop graffiti. Since this is a popular party theme, you won't have any trouble filling your space with items to carry off your theme, from inflatable radio boomboxes and 90s-inspired temporary tattoos to wall graffiti backdrops and even porch signs!
Dress code
The same goes for dress code. Anything from flared jeans and skinny chain belts, blazers teamed with leisure pants and sneakers, Doc Martens or grunge – your guests are sure to find at least some of these items in their closets.
The menu
If you're throwing an informal event, a great 90s house party idea is fast, packaged foods. This decade brought us Dunkaroos, Fruit by the Foot, Kool-Aid Bursts, Squeeze-Its, 3D Doritos, Chef Boyardee's Cheese Ravioli and plenty more, so give your guests a blast from the past or make your own versions of these 90s classics.
For a more refined event, opt for a menu that includes focaccia bread and sun-dried tomatoes, Chinese Chicken Salad, crab cakes, baked brie and molten lava cake.
The playlist
Only the top tracks of the decade will do so include the songs everybody loved in your old school house party soundtrack; like Ain't My Type of Hype, Full Force, Genie In a Bottle, Christina Aguilera; Good Riddance, Green Day; Friday I'm In Love, The Cure; Only Wanna Be With You, Hootie & The Blowfish; Groove is in the Heart, Deee-Lite; Good Vibrations, Marky Mark and The Funky Bunch. And remember, no 90s party is complete without MC Hammer's U Can't Touch This, and Gettin' Jiggy Wit It by Will Smith!
Activities
So, your guests are going to expect a 90s dance party, and we would recommend adding this as part of your event, but why not change things up a bit by setting up a 90s game station and including a retro video game tournament with Gran Turismo, Super Mario Kart, Street Fighter II, Sonic the Hedgehog, and Sensible World of Soccer?
A spy party
Now here's one that will get your guests talking. Hold a house party with a Cold War theme. Since the Cold War spanned 1946 to 1991, you can choose a decade or a novel or movie to narrow down your theme.
Inspiration
We take our inspiration from the 2011 movie, Tinker Tailor Soldier Spy, adapted from John le Carré's 1974 novel of the same name. It featured Benedict Cumberbatch as Peter Guillam, who is recruited in 1970s London to hunt down a spy.
Decor
Choose any of the settings in your favorite spy thriller as the backdrop for your house party. Possible Cold War classic settings include railway stations, pavement cafes, parks, or a James Bond-inspired office complete with fake wood paneling, executive desk and leather chairs, banker's lamps and an old metal filing cabinet.
Dress code